Mega Man X was released in December 1993. At the time it shocked Mega Man fans by not including Dr. Wily! The reason is that it takes place a century later than the NES Mega Man games, with 'Mega Man X' fighting the reploids, copies of his design, who have gone maverick, and their leader, Sigma.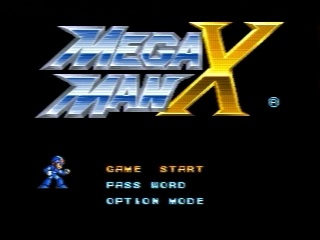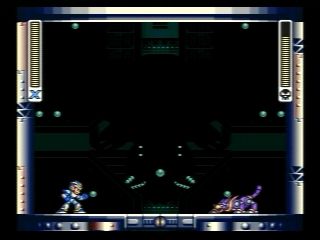 Return to the Game List, the FAQ, or the Home Page.
Single-segment 0:32:57 by Sattik Ghosh.
Get Flash to see this player.
Author's comments:
This run sparkles.
<@MrSparkle> I dont got useful stuff to say, so i will leave you all be
<@MrSparkle> I'd want to make a cool widget type thing like some keygens you see out there
<@MrSparkle> each time you hit generate outcome it would play the scream from when the sprout come up
<Vugmer> Who thinks it's a good idea to ship four NES games with manuals and maps in a fucking barely-big-enough bubble envelope?
<MrSparkle> whos thr shipper
<MrSparkle> the people that stuff item in wrappers all day
<MrSparkle> people down thier necks to shove that package
<MrSparkle> the kind of man that does not donate at charities would say that
<@MrSparkle> make a graph
<@MrSparkle> with each fram for the X axis
<@MrSparkle> y axis speed
<@MrSparkle> same with sidehopping, backwalking?, and SS on ice
<@MrSparkle> also how the values are effected with boots
<@MrSparkle> ive never tried a iron boots ss
<@MrSparkle> Cosmo you understand
<@MrSparkle> argh saw another smashed spider
<@MrSparkle> I told my dad I don't mind spiders in my room :|
<@MrSparkle> but still he goes on smashing tours through the house
<@MrSparkle> google is a hentai site
<@MrSparkle> no?
<@MrSparkle> [05:30] <@Jiano> to,mp[a
<@MrSparkle> wow dude
<@MrSparkle> you tend to type pretty well
<unreal> whos the ultimate zelda god
<@MrSparkle> me
<@ZFG> kazooie
<@MrSparkle> it take s agod to keep this room running
<@MrSparkle> with all you spammers
<LigerOfFortune> linktetra i think i speak for everyone when i say i dont get what you just said
<LigerOfFortune> lol
<LinkTetra> sorry it is just YaBB foten gives me a lot of trouble
<vgmrsepitome> Still not following you, Titra.
<LigerOfFortune> give it equal trouble
<LinkTetra> does it happen to others? Some days a strig works some doays it does not it seems
<LinkTetra> oh well
(LinkTetra = MrSparkle)
<LinkTetra> What did I do to make myslef appear feminin? Or is this not based on anything I did, nessesarily?
<MrSparkle> I can fit 6 quarters in my nose
<@MrSparkle> soon is less than 4 hours from now, most fo the time
<MrSparkle> bsidwell i said this before, that boob climbing has uses in speedrunning
<@MrSparkle> 'finely calculated dick dangle algorithms'
[05:28] <BUSHU> guys
[05:28] <BUSHU> ejaculating on your chest is a really strange thing to do
[05:34] <MrSparkle> do unto other as you would do unto yourself
[05:34] <MrSparkle> or something
[05:36] <ShadowJacky> ...
[05:39] <MrSparkle> work with me
<MrSparkle> new pants are nice, but not new zippers
<@MrSparkle> DO DOOOO
<@MrSparkle> DO DO DO DODODO
<@MrSparkle> DO DO DOOO
<MrSparkle> I got balls
<@MrSparkle> I'm jamming to WW music
<@MrSparkle> I'm jamming to dragon roost islabd music
<@MrSparkle> I'm jamming to hamtaro music Sad
<@MrSparkle> I'm jamming to gits music
<@MrSparkle> jamming to Cosmo's song
<@MrSparkle> jammin to dark world
<@MrSparkle> jamming to new st trailer again
<@MrSparkle> jammin to kratos theme
<@MrSparkle> jamminf to pm music
<@MrSparkle> jammin to st music
<@MrSparkle> I've been jammin to black eyed peas lately
<@MrSparkle> gonna startjamming
<@MrSparkle> I'm jamming to my 40MB flac atm
<@MrSparkle> I was jamming to a 40 MB flac earlier today
<@MrSparkle> jammin to geass music
<@MrSparkle> I'm jamming to a 500 MB flac
<@MrSparkle> jammin to flac symphonia music!
<@MrSparkle> jammin to rurouni kenshin
<@MrSparkle> jammin to death note music
<@MrSparkle> jammin to dark world
<@MrSparkle> jammin to bleach
<@MrSparkle> jammin to geass
<@MrSparkle> jammin to laputa music
<@MrSparkle> still a jammin
<@MrSparkle> jammin to water temple
<@MrSparkle> jammin to silversun
<@MrSparkle> jammin to oot rearranged
<@MrSparkle> Zero I'm jammin to dn muisc
<@MrSparkle> jammin to one wing angel
<@MrSparkle> jammin to dbz music
<MrSparkle> the ceo of mcdonalds works for mcdonalds
<MrSparkle> we are discussing
<MrSparkle> yeah
<MrSparkle> horrible human injustices back in my mother country
<MrSparkle> gtfo complain to them!
<MrSparkle> go hit your head on hard things
<MrSparkle> and don;t you dare get mad here, take it to the admins
<MrSparkle> adult activities
<MrSparkle> adults do some terrible things
<MrSparkle> more then most shootings involve adults
<MrSparkle> wars? mainly adults fighting them
<MrSparkle> change is what makes us grow, but also what destroys us
<@MrSparkle> I said this long ago, change is what gets a group big, change is also when ultimatemy destroys the group
<MrSparkle> the stream is still going
<MrSparkle> but more importantly, fire your bestemotional support at me getting this jar open
<MrSparkle> since thats all you can really do over irc
<MrSparkle> what travels faster, sound or the sunset
<MrSparkle> at what latitudes do they equal?
<MrSparkle> idk, assuming middle fo the summer for norther hemisphere
<MrSparkle> since day night times vary
Thanks to SDA! Listen to the audio commentary if you want more info.
Also, feel free to contact me:
Email - tiki77747@gmail.com
AIM - goldenlightning7
MSN - soaringeagle93@hotmail.com
YouTube - Tiki656
Twitch - www.twitch.tv/tiki77747
100% 0:37:34 by Caleb Hart.
Get Flash to see this player.
Author's comments:
First off, I would like to thank Tiki, Surreal, Irregular Jinny, Raijin, Hsanrb, Axon, and Obdajr for being awesome friends and coming up with new strats for this game. You guys are awesome. I couldn't have done it without you guys.
Intro: Pretty standard intro stage. I get really quick bees and a good ship, so that's nice.
Chill Penguin: This is also a good stage. The Penguin fight was also really good, but I lost a couple seconds trying to hit him with a dash shot at the end. Overall, still pretty good.
Storm Eagle: Not much to say about this stage, other than the trick I use to get the helmet, which saves half a second or so. I didn't get the best RNG on Eagle, but he is a dick anyway.
Boomer Kuwanger: The new SS trick: The Iceless Heart. This is the hardest trick to pull off in 100%. Essentially, what this does is allows you to get the sub-tank and heart in Mammoth's stage with the boomerang, saving 10 seconds in total. I get the iceless second try though, so I lose about 2 seconds or so. Getting this jump first try is ridiculous as it is. Then, the Kuwanger fight isn't amazing, but I'll take it.
Flame Mammoth: I get the arm parts pretty perfectly here. As I mentioned earlier, I get the sub-tank and heart with the boomerang. The only mistake I make in this level is at the very end where I don't dash for some reason.
Sting Chameleon: Again, pretty standard. I get good RNG on the green guy. Although, we started using 18 boomerangs instead of 17 to make this boss a little faster. Then, we implement a dash shot on Chameleon to make up for the lack of boomerang.
Chill Revisit: I get a damn-near perfect slope jump here before getting into the armour.
Spark Mandrill: The shittiest stage of my run. Not only do I not get the sub-tank first try, but I also get hit like 3 times in the dark hallway. Then, the final trick in this stage is getting the heart with the boomerang.
Armoured Armadillo: The only noticeable mistake I make here is not dashing off the cart at the start, which costs me a little bit of time.
Launch Octopus: This was a good level. I get perfect RNG on Octopus (no gay vortex's), but I don't do the fight as well as I wanted, hence, the rolling shield going all the way from one side to the other. Also, on the ship, I stay to the right of it when it is exploding to reduce lag.
Hadouken visits: Pretty okay, but on the second death, I mess up. Overall, the jumps were okay. Charged chameleon sting is used here to lessen margin for error.
Sigma 1: The ol' leap o' faith. I hold right at the wall when getting hit by the blue dude to get hit faster for Vile. I make a mistake while climbing the shaft with charged C-sting, but it wasn't that big of a deal. I could have stayed to the left when Hadouken'ing Bo-Spider, but no biggie. Also, at 29:32 in the video, it does something a little odd, but it is nothing major. It is the only time in the video it does this. It may have been an encoding error or something.
Sigma 2: I almost fucking die here at the start. I don't know what happened, lol.
Chill Penguin always starts with the ice attack, so he can be Hadouken'd with this method easily. Rangda: I get a blue eye, which is awesome. I thought the red eye would come down also, which would have been an insanely fast fight, but it didn't. I don't get the four-shot on the nose. Meh.
Sigma 3: Yay, I get the skip at the start. This doesn't save as much time as it does in any%, but it still saves quite a bit.
This stage was the biggest downfall of my run. I was hoping D-Rex would give me a good pattern, and to my demise he does not. I try to Hadouken him as he comes down, but I am just a few frames late. So I have to finish him off the boomerangs :((. This was a similar mistake Tiki made in his previous 38:57: He doesn't get the Hadouken on D-Rex.
Final: Yeah, nothing to say here. It's really hard to mess this up.
All in all, this can be improved, but that's for later. I will continue to try and beat this time and hope to knock it down to sub 37, which would be really fucking insane.
I would also like to thank Nate, Mike Uyama, Flip and everyone else for managing SDA, an amazing web site.