Metal Storm is a creative platformer released by Irem for the NES in 1991. Its most salient feature is the ability to reverse gravity on the fly. Combined with other notable features such as simulated parallax scrolling and totally sweet NES music, Metal Storm manages to impress even today.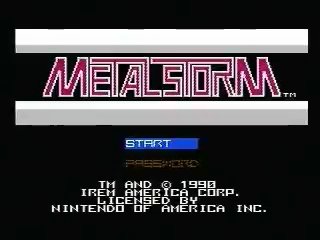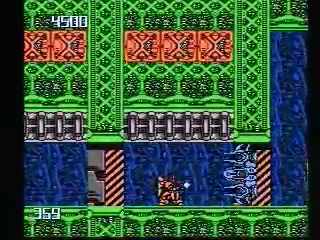 Best single-segment time: 0:12:44 by Benjamin 'UraniumAnchor' Cutler on 2009-06-10.
Get Flash to see this player.
Author's comments:
Whew. This took more effort than I expected. Most of the game is completely predictable, but even knowing exactly what to do still requires a lot of precision timing to pull off. Stage 3 and Stage 5 are especially timing sensitive, even the slightest mistake screws up the entire rest of the level.
This is easily one of my favorite games, and I was surprised that nobody's done a run of it yet. The gravity flip mechanic is something I don't think I've seen in any other game, and the music is top-notch. The animation is pretty damn smooth for a NES game as well.
Stages 1-4 are virtually flawless, as is 6, but 5 is so incredibly sensitive to timing I don't think I've ever had a flawless run through it. It's possible to kill the stage 5 boss more easily by bringing the fireball in from stage 4, but it makes the actual stage slower and more difficult, so I'm not sure yet if it actually saves time. There's also apparently a trick where sometimes running into the 4-2 boss with an Armor powerup will cause it to die instantly, but I was unable to reproduce this. If somebody has more details on how to make it reliable, I'd love to know.
Expert Mode might require me to segment, because GODDAMN.
Hope you enjoy the run!