Ninja Gaiden was released for the Xbox in March 2004 after many years in development. Ryu Hayabusa of the Dragon Lineage must prevent the power of the evil Dark Dragon Blade from being used to take over the world. Excellent control coupled with a high degree of difficulty made Ninja Gaiden a critical and commercial success. Black, released in September 2005, is essentially a Director's Cut, with more difficulty settings and new skins for Ryu, his friends and his enemies.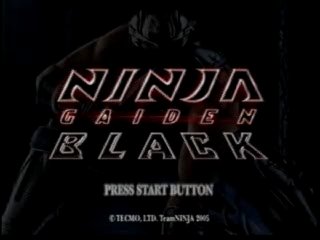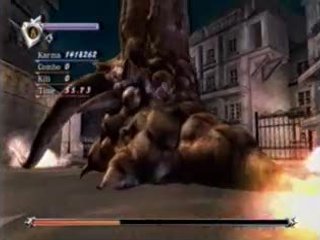 Best time: 1:41:08 by Josh Mangini on 2006-10-25.
Best single-segment time: 1:55:05 by Josh Mangini on 2006-10-25.
Return to the Game List, the FAQ, or the Home Page.
1:41:08 by Josh Mangini, done in 27 segments.
Get Flash to see this player.
Author's comments:
Credits: First off, thanks to the SDA crew for accepting this run and having such an amazing library of speed runs available. I also want to acknowledge the contributions of two other players, Kyoiori and Edge from
www.iberiansninjagaiden.com
. Kyoiori's amazing speed run on Master Ninja served not only to inspire me to run this game, but also provided me with a plethora of excellent time saving tricks. Edge's as of now unfinished run on normal helped motivate me to keep shaving time off. This run would be nowhere near as good as it is without their contributions. Anyway, onto level comments.
Chapter1 - 3:09: I consider this to be a pretty solid effort. Nothing went totally perfect, the two fights before Murai could've been a couple of seconds faster, and the Murai fight could've been 3-5 seconds faster as well. But the randomness of these encounters makes it difficult to do everything perfectly. Nonetheless, I think a 2:59 is probably possible.
Chapter 2- 3:53: This time is not very good to be honest. I ran most of the level fine, but I could've been ten seconds faster on the horseman fight if I'd been more accurate with the arrows. Plus there are definitely some ugly moments. The final boss fight with the red samurai is particularly tricky to do well since the mages tend to appear at exactly the wrong time. At the time, this run was around 25 seconds faster than my previous best, and I thought it would be tough to beat. But I've actually gotten a 3:42 here since I finished the run.
Chapter 3- 6:26: Again this could be better. But these early levels are pretty difficult to do perfectly because there are lots of little fights that can't be skipped and the randomness of them is tough to overcome. My fight against dynamo went pretty well though. On one of my single segment run attempts I actually got a 6:19. I think even more time could come off as well.
Chapter 4- 2:52: I'm very pleased with this time. The only two difficult moments are the two encounters that can't be skipped. The first one went the way I always want it to, but the second one outside of the tower was a little bit lucky since I got hit, but still managed to get a nice time. In many fights you'll notice that it's definitely quicker to avoid using Uts and instead focus on standard attacks or the sword's ET since it can kill 3 or 4 enemies nearly instantly with a little luck. The rest of the level is more about not losing time rather than gaining it. Hard to imagine more than a few seconds coming off of this.
Chapter 5- 4:20: This level is evil. The only level worse than this is Chapter 7. There are three encounters that make this board a royal pain. The first involves the three ninjas by the key of pelagus. On a perfect run, which almost never happens, I can get all three of them to run into my fireball by leading them around the corner. But in this run, I only got two and had to finish the last one off with the sword. Then the two fights at the end are completely lucktackular. Getting the dinosaur thing to roll into me while ninpoing the other is not as easy as it may look. Basically, anytime I failed to hit two of them with one fireball meant that I had to restart. The Hydra boss is worse, since it can be difficult to quickly knock off his two tentacles. I think 4:10 or less is possible, but it's not worth the trouble.
Chapter 6- 10:29: This time is pretty quick I must say. I could've been even quicker if I had managed to get the armlet of potency. In fact, I originally planned to, but on chapter 5, I missed one of the scarabs on a pretty quick run, and then saved over the level file on top of that, which forced me to redo chapter 4 and 5. I decided to skip the scarabs and concentrate on pure speed for those levels, which definitely hurt the boss fight here. I'm happy with this chapter because each fight went pretty well, though the fight in the room with the safe could've been ten seconds faster. With the armlet of potency, I could've knocked at least ten seconds off the boss fight, and surely another ten seconds could be found throughout the level. So a sub ten minute time is probably possible, it would just be amazingly hard to do.
Chapter 7- 5:45: I hate Alma. But I hate the red eye room, the archers at the bottom of the ramp, and those stupid ninjas in the monk room even more. The red eye room requires dead on timing in order to make it to the top where the archers are. You have to jump at the very top of the wall run in order to make it, and even if you do, there's a significant chance that the other archer will hit you with an arrow and knock you back down. Incendiary shuriken conservation started to become an issue here as well. I knew I needed at least 6 to get through chapter 8, so I couldn't be as aggressive with the archers as I wanted to be. The hydra is a pain for the same reason as chapter 5, though this time I at least had the Gleaming Blade technique, which devours health from just about everything in the game. The ninjas were also very luck dependent. Some runs I'd hit all three, but usually only one or two. Alma is just the spoiled icing on a very rotten cake though. No matter how good anyone is at dodging her attacks, there are some runs where it is simply impossible to connect with anything. 5:45 took me at least ten hours to get, and that's a conservative estimate. There is a not a single level on this game that I had to put more time and effort into. Nonetheless, about ten seconds could come off, assuming one was perfect in the two colored chambers and the ninjas, archers, hydra and alma all chose to cooperate on the same run.
Chapter 8- 3:53: This time is bangin. The stupid soldiers make life hell in the beginning, but the strategy I used there is pretty consistent. The next fight that I do requires lots of luck though. As I blindly run up the alley towards the three guys, I throw two shurikens. On a really lucky run, the shurikens would actually miss all three guys and hit the back wall, allowing me to skip the fight altogether. The scenario that happened in the video was the second best outcome, and it looks pretty wicked to boot. There were a few minor mistakes at the end, but not much time could come off this level without skipping scarabs.
Chapter 9- 7:03!!: My best time. If you've read this far but only want to watch one chapter from my run, this is probably the one. I do just about everything very well, but of course, the trick in the warehouse is probably the highlight of this level. It's a very tricky maneuver to pull off. But you just need to build up a good amount of momentum and get the angle of the jump right. With practice I was up to about a 70% success rate on the first try with it. The tank fight was almost perfect, except for that hit of course. The helicopter went down nicely, and while I could've been marginally faster taking out the radio tower, it's really nothing worth worrying about. Honestly, I can't imagine much time coming off of this, but I guess it could go under 7 minutes at least.
Chapter 10- 10:10: I have no idea why, but for some reason it takes a really ridiculously long time for the imps to bust out of the sewer at the start of this level. No idea why Team Ninja left it like that since all other difficulties have much quicker spawn times for them. Regardless it's pretty anticlimactic the way they emerge, considering I run straight past them anyway. This level is nowhere near as fast as it theoretically could be. This is not because I did badly here, but rather because this is the level where I have no choice but to sacrifice a bunch of time in order to prepare myself for chapter 11. I go a little bit out of my way to get an extra ninpo slot, and I had to raise enough essence to afford all the stuff that I needed for the rest of the game. I do this by making sure that I use an ET (the charged up attack for those unfamiliar) to kill each worm, since they give off a huge sum of money when killed with that attack. Each fight went pretty smoothly, and the only real nerve racking part was at the end when I do that weird little jump to avoid having to run all the way around the room to get the sword in the stone. I waste about 30 seconds upgrading my health, which is completely necessary for chapter 11, and I had some other nasty mistakes that I let slide. I think a time in the 9:30s should be possible, but it would require more time to be added on to some of the other chapters.
Chapter 11- 7:35: Pretty much perfect. Skipping the oxygen tank probably looks harder than it is. While I did use up all of my Great spirit elixirs, it doesn't really matter since there are 4 of them in chests during the first half of chapter 12. The flails work wonders on Doku. Some time could come off, but not a whole lot.
Chapter 12- 8:54: Nice time, but sort of an ugly run. Kyoiori is a fricken genius for figuring out a super fast way of getting out of the first room without adjusting any of the platforms. The trick is pretty easy to pull off as well. The rest of the run was kinda erratic. I had some problems getting through the lava sections, but my boss fights went pretty well. I think 15 seconds could come off of this, but it would be a huge pain to try and do.
Chapter 13- 8:00: This time is garbage. Garbage. That might be a little harsh, but I really just sort of gave up on getting a really good time. One, I should've saved at the first save point after I left the dragon room, but I didn't for no real reason. Then there's the Alma fight. Alma 1 is bad enough, but Alma 2 is such a wicked bitch that I can't even begin to describe my level of frustration with her. On this run it looked like I was going to completely destroy her, and then she turned the tables and schooled me for a minute. I took this run because I farmed a good amount of essence off of the pill bugs, and managed to kill them faster than I normally do. I was aiming for 7:50 when I started this, and frankly, something in the low 7:40s is probably doable.
Chapter 14- 4:13: Me > ghost fish/spirit doku. This level is definitely a pain, but I handled it pretty well. I think I managed my ninpo nicely, and I had an awesome fight against doku to boot. I think a 4:05 is possible, because I lost a bit of time when I grabbed the second key, but having everything go perfect with the fish while getting as nice of a fight against doku as I had and skipping the final save point seems pretty improbable.
Chapter 15- 12:45: This time is pretty refined. I managed to whittle over two minutes off of my previous best time. While it's pretty tricky to do each of the various fights in this level as fast as I did, it is a pretty easy chapter overall. The Dabilharo, the armlet of celerity and of course the ginormous supply of ninpo I had make this level cake. The first two encounters in the core were the hardest for me to get a nice time on. And I always lost a little bit of time with the ghost fish in the stairways. The crucial parts were the Marbus fight as well as the emperor fight. You can easily lose several minutes during these three fights alone. I doubt it's possible to go under 12 minutes here, but more time can definitely come off.
Chapter 16- ?? Don't know exactly what time I get on this chapter, but after the torture of levels like 5, 7 and 13, it was nice spamming magic and gleaming blades against this pushover of a final boss.
Overall I'm pretty pleased with my final time. It's over ten minutes faster than my last normal run, and I doubt that I could personally take more than about 2 minutes off of it without some strategy revisions. Hope you enjoy the run.
Single-segment 1:55:05 by Josh Mangini.
Get Flash to see this player.
Author's comments:
I decided to do this run just before I finished my multi segment run. With all the time I put into doing each chapter quickly, the SS run was actually fairly easy to do. It serves as a nice distraction from the semi tedious nature of shaving seconds off of a nearly perfected segmented run. I took several attempts at completing this. This was my best completion time, but I know it could be faster. When I first recorded a multi segment run for submission to SDA, my time was 1:53:29. In just under two months I developed enough skill to nearly match that in one sitting. So I'm very pleased with this run, despite its flaws, and I hope it will be as enjoyable to watch as it was to make.