Released in December 2000 by Eidos Interactive, Project IGI - I'm Going In is one of the first in a long line of tactical first person shooter games, featuring realistic weaponry and requiring not only quick reflexes, but also tactical prowess from the players. Somewhat undermining the inventive gameplay elements was poor enemy AI. Nevertheless, the game was successful enough to spawn a sequel.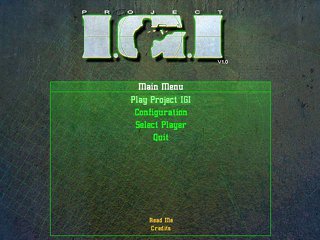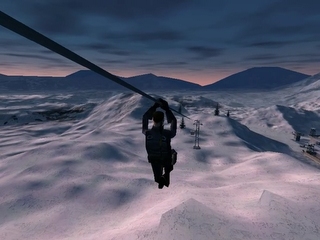 Individual-levels easy difficulty run in 0:40:45:
Get Flash to see this player.
| | | | |
| --- | --- | --- | --- |
| Stage number | Time | Date | Player |
| Stage 1 | 0:00:39 | 2008-11-30 | Jan 'Kwoky' Nêmec and Vaclav 'watch0ut' Vacek |
| Stage 2 | 0:01:28 | 2008-11-30 | Jan 'Kwoky' Nêmec and Vaclav 'watch0ut' Vacek |
| Stage 3 | 0:03:58 | 2008-11-30 | Jan 'Kwoky' Nêmec and Vaclav 'watch0ut' Vacek |
| Stage 4 | 0:04:25 | 2008-11-30 | Jan 'Kwoky' Nêmec and Vaclav 'watch0ut' Vacek |
| Stage 5 | 0:02:11 | 2008-11-30 | Jan 'Kwoky' Nêmec and Vaclav 'watch0ut' Vacek |
| Stage 6 | 0:02:55 | 2008-11-30 | Jan 'Kwoky' Nêmec and Vaclav 'watch0ut' Vacek |
| Stage 7 | 0:03:11 | 2008-11-30 | Jan 'Kwoky' Nêmec and Vaclav 'watch0ut' Vacek |
| Stage 8 | 0:03:56 | 2008-11-30 | Jan 'Kwoky' Nêmec and Vaclav 'watch0ut' Vacek |
| Stage 9 | 0:02:36 | 2008-11-30 | Jan 'Kwoky' Nêmec and Vaclav 'watch0ut' Vacek |
| Stage 10 | 0:04:52 | 2008-11-30 | Jan 'Kwoky' Nêmec and Vaclav 'watch0ut' Vacek |
| Stage 11 | 0:03:59 | 2008-11-30 | Jan 'Kwoky' Nêmec and Vaclav 'watch0ut' Vacek |
| Stage 12 | 0:03:22 | 2008-11-30 | Jan 'Kwoky' Nêmec and Vaclav 'watch0ut' Vacek |
| Stage 13 | 0:03:13 | 2008-11-30 | Jan 'Kwoky' Nêmec and Vaclav 'watch0ut' Vacek |
| Stage 14 | 0:03:56 | 2008-11-30 | Jan 'Kwoky' Nêmec and Vaclav 'watch0ut' Vacek |