Little Mac returns in his quest to become boxing champ in Punch-Out!!, released for the Wii in May 2009. The world boxing championship title is currently held by the only non-human contender in the history of the sport, and Little Mac must dodge and punch through his competitors to get the chance to destroy the criminal abductor Donkey Kong and restore the glory of humanity.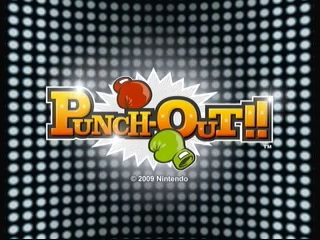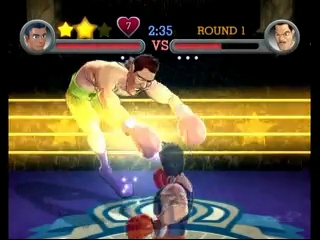 Best Contender Mode time: Single-segment 0:08:21.30 by Zack 'Zallard1' Allard on 2012-03-30.
Individual-levels run on Normal: table
Return to the Game List, the FAQ, or the Home Page.
Single-segment Contender Mode: 0:08:21.30 by Zack Allard.
Get Flash to see this player.
Author's comments:
Plenty of people to thank:
Kefkamaydie for his constant encouragement and incredibly generous bounty offer of $100 for this run to be within 30 game seconds of the Contender IL times (currently 7:54.07). Thanks man!
Everyone ever who contributed to the strategies in any way in this game which include (but are not limited to): Jack Wedge (RisingTempest), Kefkamaydie, klar, Miles, WolfmanJay, atreelol, MrL1193, AbeX300, and everyone who found any of the hidden instant knockdowns/knockouts or stars.
sinister1, adelikat, DK28, Heidman, and Pokey for all being excellent MTPO/SPO SDA runners and being more or less an inspiration for me when trying SS runs of this game.
SDA, because why not?
To be honest, this is a run I was thinking I would never be able to do. After going through the ILs, I had the mindset of "nooo, I lost frames. *reset*" which I've learned you just need to get over for SS runs. This run basically requires no errors anywhere, which makes finishing a run at all really tricky. Any single instance of a counter not yielding a star, a knockdown just barely mistimed by a frame, any move cancel failing to work or any attack dodged too early is an instant reset, no questions asked. Some strategies needed to change in order to make this run not completely impossible to complete fast enough for the bounty, but I'll get into that when I get to each changed fighter in the comments below. However, I can't change too much, because the bounty severely restricts my options, so I needed to strike a balance to dip under the time.
Glass Joe - Right off the bat, I get a frame perfect fight given the strategy I used. I didn't use the clock stop glitch this time because if you attempt it but fail, then you don't get the KO, just a knockdown, not to mention the glitch is radically inconsistent. I opted to not use the strategy to make resetting less aggravating, and since the glitch saves only 0.73 at best.
Von Kaiser - This was an excellent fight up until the star punch. I did it a tad later than I should have, which cost me about 0.15 from my average. Considering the above average Joe fight, I felt this run was still making good time, so no reset.
Disco Kid - I think I'm the only person ever to struggle with Disco's hook counters for some reason. They're really easy, but I miss them all the time, haha. This fight actually went pretty well though since I got a very nicely timed star punch in phase 2, and very little hesitation in phase 1.
King Hippo - This fight is a headache. There is a star punch that you need to land on him when he's at the back of the ring that makes him move a tiny bit faster, but it's a frame perfect star punch that is not intuitive at all to time. You can tell if it works if his gloves just barely touch each other at the end of the star punch animation. Feel free to compare this video to the IL to see how strict this timing is. Since this costs only 4 seconds if missed, I didn't feel like this would jeopardize my run yet... I still have a chance to redeem myself.
Piston Hondo Honda - I did not do the 2 move cancels from the IL fight. They save not even a second and are really, really difficult to time. This fight went pretty well given this strategy though. The whiffed star punch is on purpose since it slows the clock down, and getting hit is faster than Piston's animation when he gets hit.
Bear Hugger - You need to get 3 incredibly strict instant knockdowns, all with different timings. There's no easy way to cut it; any strategy besides the IL strat wastes too much time.
Great Tiger - This is where SS runs go to die. You have to time every single star punch in phase 1 with such care to make him do what you want. If you mistime any star punch by any appreciable degree, the run is over instantly, because it throws his pattern manipulation completely out of whack. Phase 1 is where most of the difficulty lies, but phases 2 and 3 are somewhat easy in contrast.
Don Flamenco - If Great Tiger doesn't kill the run, then Don usually finishes the job. To give you some perspective, the Don IL is 18.04 at the moment, and the average fight I have with him that doesn't fail (very rare) is 24 seconds, which is the absolute limit I gave myself when doing runs of this. This is all due to Don's timer, which will only slow down if your punches are timed nigh perfectly. Any deviation will make the clock tick down incredibly fast, which dooms the run from attaining the bounty requirement. I'll admit, the Don fights are my weakness in running this game. Considering that, getting a sub 21 time on the fly is really solid given how the timer acts.
Aran Ryan - I've fought this guy so many times that this fight is mechanical to me.
Soda Popinski Vodka Drunkinski - Time attacking this guy is the best thing ever. This fight looks so completely counter intuitive for a speedrun, which makes it stand out like a sore thumb. I don't have Champion's Mode at my disposal in this run, so the next best thing is to have him punch my face a whole bunch. Whenever you fall and get up, you are greeted with an opportunity to nab a star, every single time. That being said, every hit was intentional, including the one at the start, which is so he can knock you down at the start of phase 2. After about 9 or so punches to your face, Vodka will drunkenly laugh at you for being such a wimp... however before he gets his final laugh, he gets a sucker punch to the face and collapses. This is what happens when someone laughs at Mac.
Bald Bull - This strategy is the most significant change from the IL table. The IL strategy hinges on being able to do 4 insanely precise counters in a row to gather stars. When I was doing the IL for Bull, my success rate for finishing a strategy successfully was somewhere in the range of 1%-5%. There is an alt strat that reduces the counters to 3, but the chances of finishing are still way too low to be able to do consistently. I made the phase 2 strategy myself, which consists of a star punch cancel to skip his pump hook, followed by a 6+2 dodge combo, then a delayed move cancel to get him to give me the next star sooner than normal. This is a really consistent way to get a sub 40, which is just within the time limit I need him to be in; thank goodness.
Super Macho Man - I had to hold back every urge to do early dodges on this fight. A ridiculous amount of attempts have ended at Macho solely because I dodge too early; a side effect of time attacking this fight so much. Thankfully I landed every delayed punch and did not fall victim to the dreaded "CRUNCH-*reset*" and got to move on to the champ.
Mr. Sandman - I do feel a little bad about this fight, but I was so damn nervous at this point since this is by far the cleanest run I've ever had up to this point and was a potential bounty qualifier. I did the strat up until the frame perfect punch at the start of phase 2, which I missed sadly. This meant I had to use the panic strat I came up with, which is somewhat luck reliant. I needed to knock Sandman out asap instead of gathering a star, then at the start of phase 3, whiff the punch like normal, then PRAY he does a "BOO!" to get a star off of, then land the star punch directly on the Dreamland Express, which is a pretty tricky timing. Thankfully, the star landed beautifully, and Sandman went down with a bone crunching jab to the face.
At the moment I'm still working on doing a full run of this game, but there are still a couple of alt strats I need to figure out and some fast ways to lose against everyone in Mac's Last Stand. I feel this is a pretty solid run in contender mode that should fill the void of a SS run while I try to get a complete run going. As a final note... I have no clue how I missed Kyle Hudson. How could anyone miss a backwards capital K?!
Normal difficulty individual levels run in 0:20:06.66:
Level
Time
Date
Player
Minor Circuit
Glass Joe
0:00:25.76
2010-01-27
Zack 'zallard1' Allard
Von Kaiser
0:00:20.49
2010-01-27
Zack 'zallard1' Allard
Disco Kid
0:00:28.86
2012-06-09
Terry 'klar' Heard
King Hippo
0:00:47.12
2010-02-21
Zack 'zallard1' Allard
Major Circuit
Piston Hondo
0:00:34.55
2010-02-26
Zack 'zallard1' Allard
Bear Hugger
0:00:26.88
2010-03-27
Zack 'zallard1' Allard
Great Tiger
0:00:44.41
2010-03-28
Zack 'zallard1' Allard
Don Flamenco
0:00:17.74
2012-06-19
Terry 'klar' Heard
World Circuit
Aran Ryan
0:00:54.66
2010-02-10
Zack 'zallard1' Allard
Soda Popinski
0:00:42.96
2010-05-16
Zack 'zallard1' Allard
Bald Bull
0:00:32.76
2010-04-15
Zack 'zallard1' Allard
Super Macho Man
0:00:55.18
2010-04-16
Zack 'zallard1' Allard
Mr. Sandman
0:00:38.91
2010-05-17
Zack 'zallard1' Allard
Title Defense World B
Glass Joe
0:00:36.89
2010-01-22
Zack 'zallard1' Allard
Von Kaiser
0:00:52.92
2010-06-12
Zack 'zallard1' Allard
Disco Kid II
0:00:23.45
2011-06-30
Terry 'klar' Heard
King Hippo
0:01:09.41
2010-02-25
Zack 'zallard1' Allard
Title Defense World A
Piston Hondo II
0:00:32.69
2012-06-10
Terry 'klar' Heard
Bear Hugger
0:01:32.99
2010-01-27
Zack 'zallard1' Allard
Great Tiger
0:00:45.95
2010-01-12
Zack 'zallard1' Allard
Don Flamenco
0:00:48.01
2010-10-10
Charles Griffin
Title Defense World S
Aran Ryan
0:00:42.03
2009-07-11
Charles Griffin
Soda Popinski
0:01:15.47
2010-06-20
Zack 'zallard1' Allard
Bald Bull
0:00:45.10
2010-06-18
Zack 'zallard1' Allard
Super Macho Man II
0:01:13.71
2012-07-06
Terry 'klar' Heard
Mr. Sandman II
0:00:43.20
2012-07-20
Terry 'klar' Heard
Mac's Last Stand
Donkey Kong
0:00:54.56
2010-10-10
Zack 'zallard1' Allard
Zack 'zallard1' Allard's comments:
I have a few people to thank...
Kefkamaydie, Jack Wedge, Klar and others I may be forgetting for general craftiness and clever strategizing that helped develop these fine strategies into what they are now. I really hope more of these folks will join this IL table once they get their video quality issues resolved, because without them, none these runs would be possible.
Charles Griffin for helping out with his slick WR time on TD Aran, and for finishing up the ILs by getting an awesome record on my very worst fighter, TD Don.
klar for finally joining the IL table with some of his extremely top notch times! For reference, klar holds most of the IL records in this game, so it's really excellent to finally see him representing some entries in the table!
The staff at SDA, for helping me with anything I may need to ask or test out.
Here's what I have to say about my share of the ILs:
Glass Joe - Not much to say really. I whiff some punches which seems to make it more likely for the clock to "freeze" during Joe's lunge.
Von Kaiser - Probably the easiest fight in the game. It's so easy that even getting the WR on this guy is simple (there's like a 10+ person tie on this guy).
King Hippo - Another relatively simple fight (we're still in the Minor Circuit after all). The only thing worth mentioning is the 1 star punch in the fight. I have to time it late enough so that he starts his next combo immediately. This punch is frame perfect by the way, as the only way it works is at the end of the star punch animation you see Hippo's gloves just barely touch on the frame before the punch connects.
Piston Hondo - Bah, he should be Honda dammit! This fight introduces some "move canceling." This is when you throw a punch "right" before he does an attack, which causes him to skip the attack outright. I do 2 of these to skip right to a star punch to his bow. The rest of the fight is straightforward.
Bear Hugger - This jolly canadian has 5 different ways to be instantly knocked down! Everything he does makes him completely vulnerable, so star punches to everything!
Great Tiger - Here we have a crazy disappearing magician boxer that rides a flying carpet, because this is totally legal in boxing and in physics, right? Tiger is manipulated into doing quick ducks to the right for quick and easy star opportunities by counting how many punches you throw (he reacts differently toward even and odd amounts of punches). This strategy is not that bad, even though it looks nuts. The hardest part is the timing of the star punches in phase 1 so he doesn't block your next attack.
Aran Ryan - Not much to say. This strategy hasn't really changed since Jack Wedge first found it. This is the WR at the moment though.
Soda Popinski - Ok, this is the first time I use "Champion's Mode" in the IL table. This allows my opponents to knock me down with any punch instantly. I use this to skip Soda's un-counterable rage punches which happens any time you throw a star punch. Soda can be knocked down instantly by hooking, throwing a delayed jab, then star punch; however, doing this again in the fight requires 2 stars. Also, this is 1 of 2 fights that have me abuse the "TKO Recovery" technique, which if I press 1+2 alot as Mac is falling, he may be able to kneel and get back up! This is completely random, so Soda TKO'd me many times while trying to get a sub 43 time.
Bald Bull - Ah, the infamous Bald Bull. He has one of the most difficult strategies in contender (second to Soda). It involves a move cancel, a very specific dodge to manipulate how many times you can punch him, and 4 very tough stars in a row. Oh yeah, and everyone's favorite, the bull charge.
Super Macho Man - Using stars on Macho when he isn't stunned will make his next attack some out faster. Also, a star punch to his 3rd spin punch knocks him down.
Mr. Sandman - I've always found it funny that some of the final fights in the circuits in this game are some of the fastest of their respective circuit; this fight is no exception. This guy gives out stars like candy; literally every move he does, you can get a star off of it. The big thing that needs mentioning is how to start phase 2 properly. The 3 star punch needs to go off the instant you see the referee's head leave the screen. Too early, and Mac will do nothing; too late and Sandman will start his next attack, leaving an awkward pause after you get his "Night night!" star.
TD Glass Joe - Another really easy fight. It's Glass Joe; not even amateur headgear can stop him from being pathetic :p
TD Von Kaiser - A fairly annoying fight that involves several delayed punches to gather stars. Kaiser can still be knocked down instantly, but only with 3 stars, and no OHKO like before.
TD King Hippo - Another use of Champion's Mode, thanks to kefkamaydie. This fight has a move cancel after detaching the manhole and provokes Hippo to knock Mac down by jabbing at his face. When I get knocked down, I actually wait a second or so, since that fat dope is dancing all over the place. If I got up asap, he'd still be dancing! We can't have that!
TD Bear Hugger - Easy strategy. The only weird part is you need to go somewhat slow to make him do faster moves and get hit at the start of phase 3 since the clock slows down significantly while allowing him to excecute faster attacks.
TD Great Tiger - Kind of strict stars and a OHKO after his mirage attack, but nothing else really worth mentioning.
TD Soda Popinski - This strategy is ridiculous, mostly because of what I've done to phase 1. Just like Soda in contender, I have him knock me down whenever he does a time wasting rage combo. On the second time I get up, I hook him, then get the star from the bottle and use it asap (intentionally missing him). This slows down the clock and has him TKO me all at once, but Mac's no quitter, so he gets back up and sends him to the mat, with a star ready for phase 2. The knockdown for this guy is to land 4 jabs in a stun, then a star punch. The last thing to mention about this guy is the final 2 stars. These stars are damn near frame perfect and are usually what will kill runs on this guy if the TKO recovery succeeds.
TD Bald Bull - Easily the most difficult fight in the game, and by extension, the hardest to time attack. Basically, I guess Next Level Games thought that nearly no fights in this game have random events, so to make up for it, they have nearly every star on this guy to be completely random (or cryptically difficult timing). Strangely enough, I missed the first "sure thing" star in phase 2 and got the 2 random ones to make up for it. Luckily, the strategy allows me to miss exactly one star, but I still needed that hit on him from the missed star, so using a move cancel would have done no good. This was the first time I got him down with 2:17 left on the clock, so I couldn't have been more nervous when it came to the Bull Charge. Thankfully, I didn't miss and he went down in a solid low 45 second time. I know this time can still go down because I hesitated several times in the fight, so hopefully one day this IL can go under 45.
Donkey Kong - What a silly and unexpected cameo this is. This ape has some very tough star opportunities that aren't necessarily hard because of strictness, but because of how early you need to punch to even get them at all (practically before he taunts). Using star punches late can both: cancel some moves, and let you hit him. For some reason if you star punch him asap he won't get hit. Champs mode is used for the last time in this IL table since when Mac gets up, you get another free star as DK walks toward you. He also likes to dance, so waiting 2 seconds before getting up will stop his silly dance and start the fight sooner.
Charles Griffin's comments:
Huge thanks to zallard for doing most of the work and letting me tag along with these two fights. Tongue
TD Don - The timer in Punch-Out normally runs ridiculously fast, but it slows down while you're punching the opponent. You can keep this slower speed during Don's infinite by landing each punch as soon as possible, but the timing is very tight; a small mistake will lose you nearly 2 in-game seconds. And there're 41 of these punches throughout the fight. :\
I need to throw a punch at the beginning and shortly after the first knockdown, otherwise Don will stand around taunting me into attacking. If I throw the second punch too soon, he'll block or dodge it instead of counterattacking.
TD Aran - I got this over a year before writing this, so I can't really remember much about it... Having such a simple OHKO is nice.
Terry 'klar' Heard's comments:
I'd first like to thank zallard, Kefkamaydie, and Jack Wedge for all of their amazing strategies, and for motivating me throughout the whole way.
Also another thanks to zallard for submission and helping with a recording problem I had for a long time. I don't think any of these videos would be made without him.
Disco Kid - Not much to say for him. He's easier than Glass Joe and Von Kaiser, but that's not saying much! Hitting him with a delayed three-star punch off of a jab and a star punch at his taunts instantly takes him down. No delay is needed off of a hook though.
Don Flamenco - Even though he's the shortest fight in the game, I can't say it's easy. The majority of phase one is concentrating on his infinite combo, which is a series of consecutive infinite punches alternated by a hook and a jab. When done quick enough, the clock will think you are in "stun mode", which means the clock runs slower while the other fighter is stunned. The fight ends with his instant KO. You just need to do at least 7 punches of his infinite combo in phase 1 and a star punch in phase 2. Oh yeah and delaying the star punch saves a second. I have no idea why to be completely honest.
TD Disco Kid - Not much to say for him again except for him being the shortest Title Defense fight... and the third overall! Disco Kid seems to hate three-star punches, not only does it instantly knocks him down this time, it instantly knocks him out! Three-star punch him as he prepares for his Disco Flurry for an instant KO.
TD Piston Hondo - I know it sounds weird, but you actually need him to knock you down for a faster time! I use champions mode for this. Pretty simple strategy. He instantly offers two stars off his bow when the referee says "fight", which is why I get knocked down. Next phase I star punch him for an instant knockdown as he starts to jump left and right. Last phase is what messes up your runs. Countering his Hondo Rush is an instant knockdown, but I'm pretty sure it's one framed. I only get it about 30% of the time.
TD Macho - Two big things to mention in this fight, one being a blocked punch I do in phase 1, which cancels his next attack. I also use champions mode again for star opportunities in phase 3.
TD Sandman - Despite him being the last human to fight in the game, it's a quick and rather easy fight. So again two things to mention. In the beginning of phase 2, I intentionally let him hit me to slow down the clock, and then I end the phase by countering his dreamland attack with a star-punch for an instant knockdown.