Released in November of 1999, Resident Evil 3 takes place before and after the events of Resident Evil 2. Jill Valentine, former S.T.A.R.S. member, must find a way to escape Raccoon City before she is overcome by the seemingly infinite amount of T-Virus creations - all the while being hunted by an abomination known as the "Nemesis." Resident Evil 3: Nemesis has been released on multiple other platforms including Dreamcast, PC, and GameCube.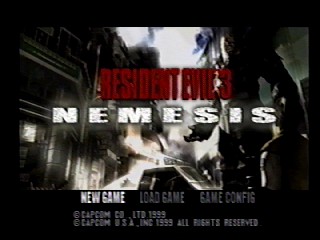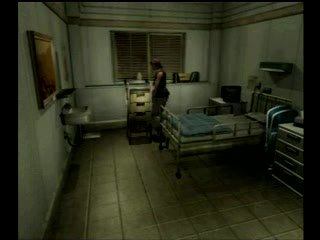 Runs on the PC version of Resident Evil 3: Nemesis:
Runs on the PlayStation NTSC-US version of Resident Evil 3: Nemesis:
Return to the Game List, the FAQ, or the Home Page.
Get Flash to see this player.
Author's comments:
I want to give shoutouts to MarcFirewing, Carrot, TheLevelBest, and ZENO. Without their brilliant strats, I wouldn't have gotten this far! Of course, I want to thank SDA and the positive causes they are for!
In hindsight, this run seems flawless. I kept an extremely optimized pace for just about the entire run. While the boss fights look sweet, they were not as optimized as I wanted them to be. It cost me around 5 seconds in total for the boss fights, not taking Gravedigger into consideration. It is possible to kill Gravedigger in 1 cycle, but the chances are very VERY slim.
That brings me to the RNG. I couldn't have gotten a better shotgun (Brad) area if I tried =D.The RPD itself was really impressive. Perfect zombie pattern, but 2nd try on the door code.
When I hit the clocktower, the rng went pretty downhill. THe music puzzle was worse than I thought. I didn't realize how much time you can save if you get a good music box puzzle! Got the Nemesis skip on stairs.
On to Mr. Santana himself :). Carlos was decent for me, but I got poisoned. Im starting to gravitate towards drain demos than spiders. that's how annoying it is. Not sure if some spider poisons are rng. BEST possible code though.
The park went really superb, despite not getting frog things on the bridge. In all likelihood, from my experience, the enemies' reactions in the park are more RNG based than the enemies themselves.
The Dead Factory went superb. I got a little confused on the water sample puzzle; think it was my nerves :)
Overall, the run was very good for me. Enjoy!
All Bosses, Low%, Hard Difficulty: 1:06:47 by 'JulianManuelR'
Get Flash to see this player.
Author's comments:
This run was made with the purpose to show how to kill Nemesis in all fights that drops a briefcase

Thanks for the contributions to:

- Roxy Rose for finding that strat on Nemesis 6, awesome speedrunner from Brazil
- Rebecca136 for showing me some lines of this game and keeping me trying this game
- Smallvillecs for his contribution on Resident Evil World, one of the greatest man of this game, doing everything that i thought was impossible
- UhTrance for his videos of RE3 and the person who inspired me starting with this category
- All my viewers that supported me

And Special thanks to the girl that i love with everything and all my heart, Andrea Jimenez for giving me strength in all the moments in my life. Love you so much!

In my YouTube and Twitch channels you can find a playlist and highlights about how to kill them using some strats

- YouTube - https://www.youtube.com/c/JulianManuelRamirezChavez
- Twitch - http://twitch.tv/JulianManuelR
All Bosses, Hard Difficulty: 0:50:50 by 'uhTrance'
Get Flash to see this player.
No author's comments provided.
A-Rank, Hard Difficulty: 1:20:42 by 'Carcinogen'
Get Flash to see this player.
Author's comments:
-First, I'd like to dedicate this run to my cat, Spot, who passed away a couple of days before I recorded this run from Feline Leukemia Virus (quite the oxymoron, isn't it?). He sat on top of my chair on numerous occasions to watch me get frustrated at the game's randomization 'feature', and watch me break a few DVDs in half because they were all loaded with failed attempts (namely, getting the Magnum in the Police Station instead of the Grenade Launcher). Sleep well, little buddy. You left us too early. =[
I also want to thank Tom 'sshplur' Nguyen for going out of his way to mail me the runs from Shin's site on DVD, the rest of the Survival Horror runners at SDA for all being very inspirational players, and Goda from Shin's site for his video of the Japanese version at 1:14:44.
Lastly, I'd like to thank the SDA staff for maintaining this wonderful site, and Damien 'Dragondarch' Moody, who posted the original 1:24:53 run, thus giving me a time to shoot for. I wanted to shoot for sub-1:20, but it takes a retarded number of retries to manipulate the randomization, so I decided to go ahead and submit it with 1:20:42 (4 minutes 11 seconds isn't a bad improvement). Anyone else is welcome to try shaving off several more minutes, if they are masochistic enough to endure all that luck manipulation. Q_Q
Originally, this was a project for my YouTube page, and for the hell of it I decided to post up a topic on the forums to see what I could do to make the run look nicer. I then learned of a video by a Japanese player at Shin's Biohazard site (http://homepage3.nifty.com/shin3) named Goda. After getting the DVDs from sshplur, I used Goda's run to find ways to improve the current run.
One big thing I decided on when I started was to use my original PlayStation (SCPH-9001) instead of my PlayStation 2, because PS2 lags up in Door Opening sequences and other loading screens. I learned of this after watching Dragondarch's run and realizing that my copy of the game did the exact same thing.
It was impossible to keep up with Goda's run using his direct route, because there are many differences between the Japanese version and the US version of the game; in particular, load times (I've tried running this version of the game both on PS1 and PS2, and the load times still didn't match the Japanese version), text differences (not much time lost there, perhaps 20 seconds), and the fact that the Japanese version is slightly easier than the North American version (It takes 6 bites or so to drop into Caution in the Japanese version, and 4 in the North American version). I had to make adjustments, like picking up an extra First Aid Spray or two in order to keep out of Caution status, as your footspeed drops slightly with the slight limp.
With my route, I know I could've shaved off enough time to get sub-1:20, but due to the bad Graboid (Grave Digger) fight and the Hunters in the park, I had to make-do with what I had in this run. Everything else, like the Nemesis fights in the Clock Tower and Garbage Dump, went very well.
Enjoy =D