Released in August of 2000, Resident Evil Survivor trades off its unique "fixed camera" controls for that of a FPS. Ark Thompson, an amnesia induced agent, must escape the Umbrella controlled island he was sent to investigate after being discovered and having his first escape attempt thwarted.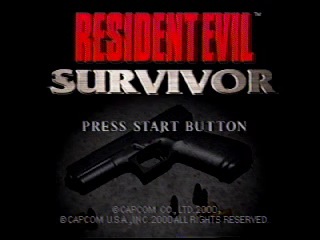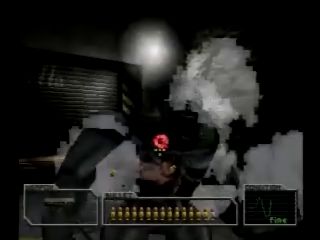 Best Single-segment Time: 0:39:58 by 'Carcinogen' on 2008-03-09
Get Flash to see this player.
Author's comments:
Gun Survivor is a bad game by many peoples' standards, but in my opinion it is nowhere near as bad as the only Resident Evil game I haven't beaten: Resident Evil Gaiden on the GBC. Unlike Gaiden, however, I actually had some fun with this game... Enough to do a run on it at least. =]
I think it could've been a very solid game if it weren't for the fact that it was riddled with nasty hit and collision detection, if enemies didn't cock-block you from the doors when you tried to run around them, and if they left Guncon support in the US version. I should actually try playing this with a Guncon if I can 'obtain' the Japanese version ;-]
I had a previous run on YouTube that I didn't submit to SDA because I felt it wasn't a substantial enough improvement to the 42:02 Dragondarch held. Got a little burnt out from trying to SS RE4 and decided to improve upon my time one weekend, since I could see quite a few ways to do so.
Some areas have two sets of enemies. In the prison courtyard, there are either Cerberi or Hunters; in the lobby of the Umbrella HQ, there may be Hunters or Lickers; a couple of floors above that, there may be two more Hunters or Lickers.
Lickers and Cerberi (I do hope that's the plural form of Cerberus) are a nonfactor if you don't stop moving. Hunters will cock-block you from your destination in a heartbeat unless you can predict where they will jump (Run towards a wall, and the Hunter will jump towards the open area, when you hear it jump, swerve to avoid it and keep it from pinning you.).
I got a couple of extra packs of Flame Rounds instead of a Shotgun and Shotgun Shells to combat the Hunters that I was forced to fight. Also, due to the bad hit detection, I had to pick which ammo I wanted to use vs. all forms of the Hypnos Tyrant.
Shout-outs to the SDA staff and #sda, and to LigerOfFortune for being a total dewshbeyg and making me play Xardion =p