Released towards the end of the console's lifespan in February of 1995, Ristar is a platformer developed by Sonic Team for the Sega Genesis/Mega Drive. While it didn't attract too much attention at the time of its release, it is often heralded by those in the know as one of the best of its genre on the Genesis because of its smooth controls, inventive level design, and great soundtrack. As Ristar you must run, swim, and swing your way through 7 worlds on a mission to save your father and the solar system from the evil space pirate Greedy.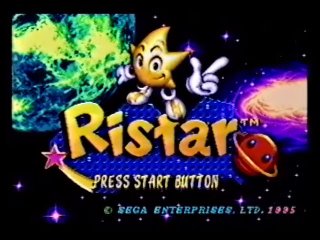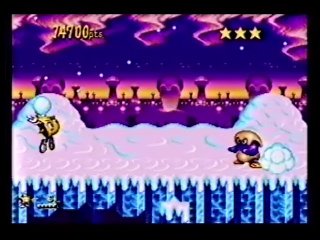 Best time, normal difficulty: 0:28:47 by Chip 'Breakdown' Vogel on 2009-02-09.
Get Flash to see this player.
Author's comments:
Enhasa for hosting the speedrunning tournament and everybody who voted Ristar for Genesis week. If not for this tourney I'd have never gotten into this game in the first place.
Normand Nubcake who helped out a ton with routes and strategies and for showing me some of the pole tricks weren't in the TAS only zone of difficulty. A lot of what you see here he came up with. Thanks a bunch man.
mikwuyma for transferring from VHS to DVD (and sorry to everyone else for having to watch in VHS quality).
Everybody who took the time to voice encouragement or give advice. This runs all the better for it.
And of course the SDA crew (double thanks for two of you) past and present for running and maintaining the coolest corner of the internet there is.
As for the run, I'm very happy with how it went overall. Not too much in the way of mistakes and I think it looks pretty good overall. There are a bunch of spots where I got very lucky as well, most notably the second boss. I think with perfect luck and execution the time for this route could come down at least 30 seconds, maybe even sub 28, but that would require an insane amount of dedication.
To anyone who plans to run this game in the future, do yourself a favor and get the actual Genesis version. This was played on the PS2's Sega Genesis Collection which definitely has some shortcomings. Most notable is the sound effects. Some of them just sound wrong and you lose the cool distortion effect when the fourth boss tries to sing, but one change is a huge problem for speed running: the poles. The Genesis version had a rhythmic swinging sound while you spun around them, which served as a great audio cue to time releases while I was practicing on an emulator. This version gives you this weird grinding sound that is useless in this capacity. As a result of this, I have to either internally count or eyeball my releases which makes most of them a little slower than they can be.
If you're interested in my take on level by level stuff, keep on reading. If not, hope you liked the run. Thanks for watching.
---
Level Comments
1-1: Was determined to start this run off as well as possible, and I'm sad to report what I got in this run is about the worst level 1 I'd accept. The rabbit I took a hit from spawns in a random place and I decided early on in my attempts I wasn't going to reset for him. The swing is ever so slightly suboptimal as it's possible to get up against the far wall as opposed to catching the ledge (though thanks to the hill I can drop to from the one I got it makes any time loss negligible). The snake could've died a little faster and my exit swing could've been a little better (0 height bonus without touching the ground). Of course, I'd be surprised if these mistakes totaled more than a second or so.
1-2: Outside of screwing up the first swing a little this level went great. For the swing it's possible to get out of the chamber without bouncing down first, but I would accept anything that got over the tree. There is one tiny timesaver I did miss in not swinging over the blob guy after the second pole. To make that you have to grab pole before him at the highest possible point, which is really hard to do and honestly something I didn't actively try for as it saves maybe half a second.
1-3: The quick kill here looks cool as hell, and with a little practice it isn't that hard to do. Did lose a second or so as the alien didn't drop as quickly as he could have, but that's totally random so I won't complain about it.
2-1: Really solid level overall. I was a tiny bit slow in the first swimming section, but other than that the swimming went about flawlessly. The third pool is definitely the hardest part. Not getting hit through there and triggering the water to rise soon enough so I don't have to wait at all is a bit of a tall order. The "boss" fight displays the premiere graphical glitch of the Sega Genesis Collection version of the game with the weird blue blotchy crap during the tidal waves. The only other thing of note here is the last pattern could've spawned closer to the right side of the screen, but that's random and could've been much further left than the one I got, so no complaints.
2-2: Outside of the two hits I took and the bad treasure chest luck I have no qualms with how this level went, which I'm pretty happy about as this is one of the more technical levels in the game. Swimming in general is really easy to screw up, and there's a lot of swimming to do here.
2-3: Oh such a very lucky fight I got with this boss. In the TAS notes it's said that what he does is determined by how you move, but outside of the fact that his first two attacks are always the same type (though not always to the same side) I haven't found any real rhyme or reason to it discernable in real time, so I just count it as good luck he came to the foreground as often and as quickly as he did. It's also fortunate he appeared close enough to my level each time so I could actually hit him.
3-1: Just missed the jump to avoid the rising fire (you can actually hear the jumping sound, so I was literally a matter of frames too late) and a slightly suboptimal swing as I could've landed on the ledge with the chest instead of right below it. The optimal swing is risky there though, so I'll take the one I got. Other than that, this level went fine. The boss could've been a little more cooperative for speedy kills, but it also could've been much worse.
3-2: Botched the first swing a bit, but recovered well enough. Nailed the second one, which I'm very happy about as it's probably the single most precise pole trick in the run both in terms of the release and what you have to do while flying (have to get high enough to clear the ledges, bounce off the ceiling a bunch of time to travel far enough, and if you bounce off the ceiling at the wrong time you get shot backwards since it isn't level the whole way). The rest went fine and finished before the music changed, which is the sign of a job well done.
3-3: I hate this boss, I really do. That said, the fight went great. He did the faster ground attack 3 out of 4 times on the level sections and got him on his first drop in both of the falling sections (though only just barely on the second). No complaints.
4-1: Probably the most overall technical level in the game and despite its difficulty to do quickly it remains my personal favorite. Nailed getting the second crane on its first drop in the second metronome section, which takes some absurdly precise timing. The fans are timed elements and the cranes don't start moving until you're close enough to trigger them, so I basically have to get to that first fan just as it starts blowing upwards to have the metronome where I can grab it in time to get to the crane before it raises. It's very tight, but saves me about 7 seconds in not having to wait for the crane to drop again and not having to wait for the next fan. I did screw up the flashiest trick in the level in the pole swing. You might notice that I don't even try to grab the metronome the first time which is because I thought I screwed up the swing itself and didn't have enough vertical force to make the ledge. As I'm sure you can imagine I was quite upset to find out I was wrong about this an instant later. Nailed it second try though, so it only cost 4 or 5 seconds. Had a great boss fight too. The one round kill saves a bunch of time and looks pretty cool as well. Despite the fact that it contains one of my biggest mistakes in the whole run, I'm very happy with how this level went.
4-2: Went just too far on the opening zipline which caused just enough of a delay to make me miss the window on the easy kill on the spinning bird guy. Didn't get lucky with grab to kill him after that so had to wait out the second one in order to have enough health for the damage skips to come. Outside of that and some bad luck with the guitars this level couldn't have gone much better.
4-3: Unluckiest boss fight in the run, but really that's saying something as I don't lose that much time here. The first time he went out of reach he dropped immediately, and the second he only did one round of the feather attack (which could've been 2 or 3). Sure, ideally he would've never moved out of range at all, but this could've been much worse than it was.
5-1: This level went very well, only real mistake to speak of is not grabbing the alien before he grabbed the bomb, but that's tough to do and only costs me a second maybe. The snowball fight went perfectly, 3 back to back fastballs. I'd be lying if I said I could do that every time.
5-2: A couple of little mistakes in this level, but overall pretty good. Grabbing the health was a unnecessary safety precaution, but it's all too likely that I'll take two hits between the dropping missiles and the underwater turret, and I need to be able to suck up a hit from the spike wheel before the ice slopes. Grabbing the health is really quick though, so I don't think it's too much of an eyesore. Did botch the first direction change on the ice slopes, but nailed the rest of them, and got the exit pole about as quickly as possible.
5-3: Did get a little lucky here as the boss never had to bounce three times to get back in position, maybe saved 2 or 3 seconds overall. Outside of that, there's really no way to speed this up further outside of dodging the ice breath as seen in the TAS. That is really tough to do though (I've gotten it a grand total of once in practice), and it is a potential run killer if screwed up, so I don't even try for it.
6-1: This level is annoying as hell, so much can go wrong, but this ended up pretty good. The disappearing bars section went decently which I'm pretty happy about. Glitching through the spiked pole didn't go so hot. The window to hit for it is very tiny, and I almost got it on the first opportunity (you can see me crack my head against it with no sound effect, means I was painfully close) and almost got it again a little before I made it through. The time taken to get there was probably about equal to going to the intended route, any loss or gain there was negligible. The rest of the level went fine and Commander Hat (doubt it's canon, but it's fitting) went down smoothly.
6-2: Some little mistakes and some bad luck here. The "wallpaper" room could've been kinder to me and the raining blobs room could've been nice and not spawned one right above me when I released. As for execution there was missing the ladder grab in the missile launcher room and I botched the swing directly to the transporter in the second to last room (which looks really cool, wish I'd have nailed it here). Other than those, no real complaints, things went about as well as they could.
6-3: This fight could've gone a little faster. I was a bit slow on his third attack cycle (should've got him down before he did the big jump at the end), which in turn slowed down the last cycle a bit. This only amounts to a couple seconds though.
7-1: My climbing was a little slow initially in the level section, but nailed the swing about as well as possible. The boss fight went pretty well, did take a hit, but he only did the gun attack once which is the only attack he won't go vulnerable during.
Greedy: Big whiff at the start, but I recovered from it pretty well and kill the turrets in short order. His second form could've gone better, but I was taking the time to clear out the orb guys as a safety precaution. The big thing here is he didn't get off his throwing orbs attack at all (though he was mighty close once) as that would eat up about ten seconds alone. Once I'm to the last phase it's smooth sailing. I did miss both attack opportunities right after his lightning attacks, but the window for those is very tiny and that only sets me back a couple seconds.
Thanks for reading, and hope you enjoyed the run!