Released in March 2001, Serious Sam marks the FPS debut of Croatian developer Croteam. Featuring an original 3D engine that can render large numbers of creatures on screen at the same time, as well as enormous indoor/outdoor environments, The First Encounter is the first game to feature Sam "Serious" Stone, who is mankind's last hope against the forces of Tah-Um (Notorious Mental). He has been sent back to the times of ancient Egypt using humanity's trump card -- Timelock, a remnant of an extinct civilization from Sirius. Serious Sam brings back the glory days of furious shoot-em-up action and paper-thin storylines, while throwing in a bit of crazy humor!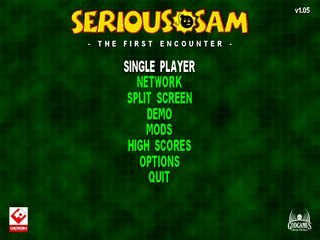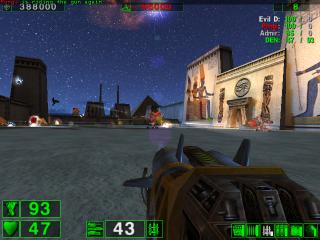 Return to the Game List, the FAQ, or the Home Page.
Single-segment with Co-Op: 0:41:23 by Anders Hansen, 'Momfy'
Get Flash to see this player.
No author's comments provided.
Segmented with Tourist Difficulty: 0:35:33 by Ivan 'ImFuryPro' Saponenko done in 10 segments appended to unknown files.
Get Flash to see this player.
Author's comments:
Game: Serious Sam: The First Encounter
Difficulty: Normal
Runner: Ivan "ImFuryPro" Saponenko
Time: 0:35:33
------------------------------
Levels - Time
Hatshepsut - 0:00:43
Sand Canyon - 0:00:33
Tomb of Ramses - 0:01:39
Valley of the Kings - 0:01:28
Oasis - 0:00:50
Dunes - 0:01:07
Suburbs - 0:00:59
Sewers - 0:01:13
Metropolis - 0:08:21
Alley of the Sphinxes - 0:02:46
Karnak - 0:07:08
Luxor - 0:02:11
The Great Pyramid - 0:06:35
------------------------------
Total - 0:35:33
With Serious Difficulty: 0:52:45
Get Flash to see this player.
Tomb of Ramses III (0:01:36)
With Large-skip glitches, Serious Difficulty: 0:06:30
Get Flash to see this player.
Freezard's comments:
Sand Canyon (0:00:35)
Valley of the Kings (0:01:51)
Moon Mountains (0:01:05)
Oasis (0:00:49)
Bart de Waal's comments: