Released in December 2001, Super Smash Bros. Melee features 25 classic Nintendo characters. While it is a game primarily meant for 2-4 player versus battling action, there are many single player aspects to the game, including several mini games that are all about getting low time records!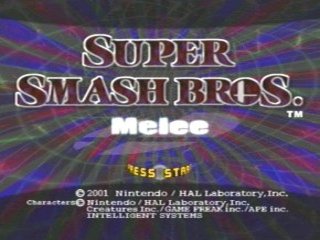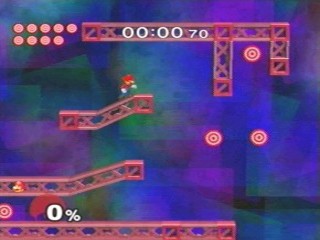 Return to the Game List, the FAQ, or the Home Page.
Classic mode as Ganondorf, Very Easy: 0:00:32.77 by Andrew D.
Get Flash to see this player.
Author's comments:
Hello everyone! As you know, this is a Classic Mode speedrun, for Super Smash Bros. Melee.
It is hard to believe that nobody managed to get a speedrun of Classic Mode onto the site in all of the time SSBM has been out, as it is an extremely popular Mode.
Now, if you are wondering how Classic Mode operates in Super Smash Bros, Melee, it is quite simple. You play through 11 stages, with 4 of those stages being set (meaning that they are the same all of the time.
These stages are Break the Targets, Snag Trophies, Race to the Finish, and the Master Hand battke at the end. Now, every other stage you fight opponents, who are all random. The stage you fight them on is random too, from a choice of two stages for each character battle/Team Battle. That makes luck an extremely important factor in this speedrun, so keep that in mind while judging this run in any way (if you do!).
Anyhow, I'd like to thank a few people for making this run possible.
I'd like to thank the various people who have discussed runs of Classic Mode on SDA's forum over the years, which gave me inspiration to do this run.
I'd like to thank Wak for giving me competition to further my knowledge and skill at Classic Mode, and to make this possible.
Lastly, I would like to thank the many people who saw this run early on right when it was created, and for giving me great feedback.
Well, that sums up the thank you's section. I should tell you how this run came to be. It all started at the beginning of May, 2009. I was attempting to beat pyh189's Adventure Mode speedrun, but to no avail.
I just had terrible luck, and gave up. However, I thought of the idea to do a speedrun of Classic Mode instead. After a week of researching, I was set to go. I did some runs with Jigglypuff, but they weren't that fast and Wak had me beat midway through May.
Then, I stumbled upon SW-1988's compilation video on YouTube of him doing a Classic Mode run (compilation, so not truly a speedrun), with Ganondorf.
It seemed that Ganondorf had the potential to get a better time than Jigglypuff, which was apparent in his 23.27 second time overall. I decided to try out Ganondorf, and the rest came after hours upon hours of attempts over a week of playing.
I pulled off a great time, that took a big amount of luck. Well, now you know the story of my run, let us go onto the individual stage comments.
(Note, I put Ganondorf as the title in each stage/battle name just to let you know that he is me, just in case you forgot I was using Ganondorf for this run.)
In case you were wondering, the time displayed after each stage name is the total time it took me to beat the stage. So, you subtract the remaining time from the starting time. For example, if the stage started with 5 minutes and I beat it with 4 minutes and 30 seconds left, it took me 30 seconds exactly to complete the stage.
Battle One: Ganondorf vs. Luigi: 1.12 seconds - This stage is the easiest to have for the first fight. The strategy is simple, just use forward aerial to kill Luigi. However, I started late so I wasted about a half of a second. Nothing bad though, it happens sometimes.
Battle Two: Team Ganondorf vs. Team Zelda: 5.46 seconds - Ugh. The best team battle to have here is against Samus and Captain Falcon, but I got unlucky. I did my best to make of what I could, and managed to get Zelda and Young Link dead at the same exact time. Not so good of a time here, but trying to get the luck to get good matchups one after another is just way to improbable of happening. Despite this time, I trudged on to see if I could make up for this bad time.
Stage Three: Break the Targets: 0.19 seconds - This is obviously simple.Just die as fast as possible to move on. I get 0.19 seconds, which is a great solid time. Best I've seen here is 0.12, but that takes perfect landing and timing. Nevertheless, this was excellent.
Battle Four: Ganondorf vs. Falco: 4.58 seconds - An average battle here. This is a stage you do not want to have for the fourth battle, but I do what comes first into my head and kill him. It makes it worse that I had to Falco on Venom. It is much faster to fight him on Corneria, but luck didn't favor me there. I killed Falco off of the top of the screen and had no screen hit which wasted more time, but hey, this could've been much worse and luck sometimes just doesn't go your way. Average time here.
Battle Five: Ganondorf, Link and Donkey Kong vs. Giant Bowser: 2.41 seconds - This battle was good. The best Giant character to fight is Luigi on the Mushroom Kingdom 2 stage, but I didn't get want I wanted there either. Luckily, Giant Bowser is huge so two forward air aerial attacks was all it took to kill him. Good here, as good so far for the run.
Stage Six: Bonus Stage - Snag Trophies!: 1.44 seconds - Great time here. The fastest route to die was executed perfectly, with just maybe five hundreths of a second being lost due to timing. I was happy at this point!
Battle Seven: Ganondorf vs. Donkey Kong: 1.93 seconds - Awesome! I was chosen Donkey Kong to fight, who is exactly who I wanted to battle. The fact I got him on the stage I wanted to (Kongo Jungle) made it even better. He seems to want to kill himself, as he jumps right into my attack, and I get him beat quite fast. Amazing luck here, and an amazing time.
Battle Eight: Ganondorf vs. Team Ness (Many Nesses): 6.69 seconds - This was lucky for me, because against many Teams, Ganondorf doesn't have any strong points. I got to fight not the Team I wanted, but I made progress with what I was thrown at. Surprisingly, I did well and got under a seven second time, which is really good.
Stage Nine: Race to the Finish: 1.09 seconds - This time was great too. I think this may be the fastest possible running time, because you can get a faster time if you waveland backwards into the goal. This is a bit of a risky move with Ganondorf, and I wasn't about to try it this late in the speedrun. I played it safe, and only lost about 30 tenths of a second.
Battle Ten: Ganondorf vs. Metal Dr. Mario: 1.83 seconds - The time was great, although Metal Dr. Mario took a bit longer to die than he usually does. This is the easiest fight in all of Classic Mode. All I had to do was perform an Up-Tilt attack, and the character falls down below and kills themselves. They always fall down, which isn't luck based, and a relief. I was confident that this run was the one to finally get the time I wanted at this point, and I was pumped to take down Master Hand!
Final Battle: Ganondorf vs. Master Hand: 6.03 seconds (Note, the Master Hand battle starts with one hundreth of a second off the clock, so the 5 minutes here become 4:99:99, which you see in the run.) - Oh man. This was the definition of "pulling through at the last minute". I crushed the Master Hand here. I had confidence, and I pulled it off. Every one of my attacks hit at the perfect time, and to the strongest power available. This time is practically perfect, because I wasted no time at all killing Master Hand. Just watch the fight. You'll see what I mean. It's just unbelieveable. A great way to end my run, and a great end to an amazing speedrun.
Overall, the total time added up for each individual stage adds up to an amazing time of 32.77 seconds.
Well, that ends my run comments. If you watch the credits, you'll see that I get 8 shots on at the end, which is my favorite number. I also end with a credit relating to Pokemon showing, which is my favorite thing ever. Those are just some cool bits of information, if you wanted to know!
That is it! I hope you enjoy or already enjoyed my speedrun, and get some inspiration to do a speedrun yourself. If you have any questions about the run, send me a Personal Message on SDA's forum. I'll answer every Personal Message I get, so don't be afraid to ask. Have fun, and thanks for watching!
Classic mode as Jigglypuff, Very Easy: 0:00:39.74 by Philippe Brisson.
Get Flash to see this player.
Author's comments: the funny part is I was trying to achieve such a time for hours that day, and a girl I know decided to call me and told me how lucky she was today, and I was like oh really? And continued to play... and this run is the fruit of me playing while talking on the phone.
Stage 1: 1:69
Stage 2: 2:27
Stage 3: 1:93
Stage 4: 0:94
Stage 5: 1:01
Stage 6: 1:16
Stage 7: 2:26
Stage 8: 8:07
Stage 9: 1:11
Stage 10: 1:27
Stage 11: 18:03
Total: 39.74
Little things to say:
1- I lost like half a second on stage 1, I know.
2- I usually restart at this stage. That time it was the second fastest stage I can do, after Mushroom kingdom II. And yeah I owned it. My average for this stage is about 5 seconds.
3- I love killing myself at BTT.
4- Yoshi got it in the nose. Glad it was one of the characters I can beat in less than a second.
5- If I rested link too soon, one of my partners would have stabbed link on his way to die, and link would have not died. My partners are fuckers and screwed many of my runs. But on this one everything went fine.
6- my bonus stage is at 0.08 from my personal record.
7- Out of the levels to complete in 1v1, the ones I hate the most in order are: Mushroom kingdom I (automatic restart), Hyrule temple (Automatic swearing at my TV screen), Fourside and Jungle Japes. On this run, only Jungle Japes appeared, I'm lucky.
8- The only foes I hate to encounter are the DKs and the Pichus. I fell on Ness, something I rarely get, and did well enough.
9- That's the fastest I can get.
10- I can jump and rest fox about 0.30 faster, but I didn't.
11- 3 seconds of mistake here. But since the rest of my run had no real mistake, I kept it.
I had a lot of fun running classic mode. I thought it was 100% random and stuff, but at some point I figured out a lot of path in every character, depending on the stage etc. The only real random things are what character you'll face up, and your damn partners on stage 2 / stage 5. Beside that, Ice climbers in the icicle mountain are hard to figure out what the fuck they are doing, sometimes.
All that work bought me to a sub 40 seconds, which I'm more than glad because I didn't think enough luck in a run would be possible. My reach was something aroune 43 seconds to.
If you want to contact me, do it via my youtube channel: Wak017. You'll also find out a lot of interresting SSBM videos. Enjoy!
Best time, Very Easy: 0:03:15.27 by Peter Yeh.
Author's comments:
First I'd like to thank Gigafrost and pkmvodka for tips on some of the levels, as well as Wak who started the idea of a speed run in Adventure. I always liked to play competitively in the SSBM 1P Modes. But I wasn't sure if I would be able to finish this run because the randomness of the exit room in the Underground Maze made it very frustrating. I pulled it off anyway, but not without mistakes though. Sorry about the video quality in 2 instances, one in Big Blue and another in Icicle Mountain-apparently I recorded on a bad spot. They don't really occur at significant areas though.
Here is a breakdown of each level:
30.66 Mushroom Kingdom - Mistake #1: slight mess-up in the Yoshi battle, I missed one of them and lost about half a second. I went on anyway though.
3.29 Mario & Peach - I decided not to use the 2.7 second method because I can really only do it 40% of the time, but this way I could do it about 95% of the time. It's only half a second anyway.
1.68 2 Tiny DKs - good enough, I get this almost every time
1.37 Giant DK - a bit conservative on this, I didn't want to miss him.
4.59 Underground Maze - fastest I've gotten so far
2.98 Zelda - one of the few times she actually died on the side, so I'm glad about this
1.51 Samus
16.96 Escape - big thanks to Gigafrost for the shield break trick
0.66 Kirby
10.32 Many Kirbys - Mistake #2: Lost about a second not hitting 2 and 3 together with air Up+A, but usually that one Kirby drops through instead of jumping
0.86 Giant Kirby
1.22 Fox 1
2.26 Fox 2 - reason why I don't Rest him immediately is that he'll die on the top, which is slower than doing this
11.71 Pokemon Stadium - one of the better battles but still not my best (10.5)
29.07 Big Blue - The car hits are entirely intentional.
1.21 CF - Mistake #3: not a big deal, I sent him to the left instead of the right, lost about 0.2
4.07 Onett - best time I've gotten
53.36 ICs - Mistake #4: I tried to air dodge down onto that platform with the Polar Bear, but I mistimed it and actually did an air dodge, so I couldn't go onto the platform above it on time, had to wait for the ICs to drop down more. Lost 1 second.
11.32 Wire Frames - Mistake #5: terrible battle here; they just refused to cooperate and I just kept missing my attacks...best I've gotten was 7.5 so this was about 4 seconds lost
1.16 Metal Brothers
5.01 Bowser - Mistake #6: got hit a couple times after I did AFA, but this wasn't major...lost about 1.5 seconds, I don't often kill him in 3.5 seconds without getting hit.
That's a game total of 3:15.27, with about 8 seconds worth of mistakes. Overall it was still a pretty clean run, much better than I expected, and under 7 minutes which was my goal; though I may try to do it again just because of that stupid Wire Frame battle. Optimal time would be about 6:43 / 3:06, including the 2.7 strat for Mario & Peach.
Individual-levels run of Break the Targets in 0:03:08.77:
Individual-levels run of 10 Man Melee in 0:02:58.76, 100 Man Melee in 0:47:30.20:
Return to the Game List, the FAQ, or the Home Page.