As the first Turtles game for NES, released in June 1989, Teenage Mutant Ninja Turtles sold copies mostly because it was based on a popular television show. TMNT has gained a reputation for being a brutally difficult game due to the hordes of enemies you fight, and the fact you never gain life after beating a stage. As a team, you begin by rescuing April O'Neil, and you end up infiltrating the technodrome in an attempt to defeat Shredder.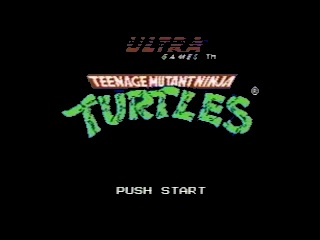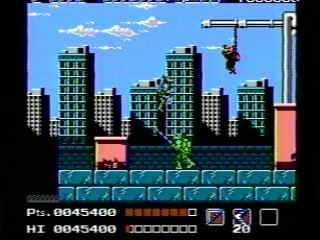 Best time with deaths: 0:19:32 by Blake 'Spider-Waffle' Piepho on 2006-04-24.
Author's comments:
This is my first submitted speed run for Teenage Mutant Ninja Turtles. First off I have to thank St.Illuminated for starting a thread on the SDA forums for this game which ultimately got me interested in speed running it. Also I'd like to thank everyone who responded to that thread showing interest for this game.
To begin training for this speed run I did my usual routine of playing on an emulator and developing strategies. Through the use of save states I would fine tune and practice various segments of the game until I was really good at everything.
The biggest hindrance to a speed run this game offers is that the stage 5 boss, the technodrome, randomly spawns in 1 or 3 sewers. to achieve a good time I gamble that it will be in the fastest sewer and restart my run if it's not. The odds are that it will be in slowest sewer 50% of the time, and the medium and fastest sewers 25% each. I ending up not seeing the technodrome spawn the first 11 times I got to it. After that I saw the technodrome about half the time.
My first completed run I timed at about 19:43 but I wanted to improve it. I got another run at about the same time. Then I got a run about 7 seconds faster; I still wanted to do better. I followed up with 6 more seconds of improvement to get the run featured here.
This run didn't have any large slowdowns and did a pretty good job at everything. I was able to keep leo at high enough health after the water part that I didn't need to switch to him to get a half pizza in the sewer of level 3 which saved about 4 seconds. I didn't kill the stage 3 bosses particularly fast, in fact I deviated from my intended strat, this cost roughly 4 seconds.
I find the hardest parts of this game in level 4 if your trying to go through it fast, level 6 also can be fairly hard but not so bad if practiced a lot. The jump to the missiles in stage 3 can be costly on your time but I only wasted about 2 seconds lining it up. The boomerang guys can throw a boomerang early which sometimes causing a sequence of significant damage and slowdown.
I still think I can do better with some more risky strategies involving less turtle switching, less room for error and more potential for pseudo-randomness to end a run.