Released in August 2000, Valkyrie Profile is a cult classic from Star Ocean developer tri-Ace, featuring unconventional plot structure, hybrid realtime battles, and 2D platforming. Its originality and rarity soon made it the most expensive game on the PlayStation second-hand market. Based loosely on Norse mythology, it tells the story of Lenneth, a Valkyrie who must recruit and train dying mortals to fight in the afterlife for the impending Ragnarok. In the course of her duty, however, she begins to have doubts about both her own purpose and her bonds with humanity...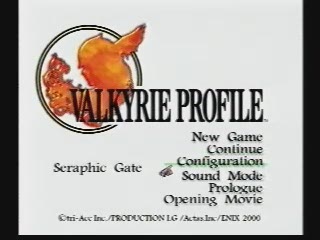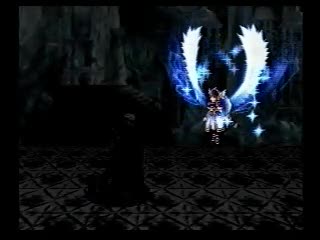 Category Note: An 100% run involves beating every dungeon and achieving an A ending.
Note about the 100% run: There is a save and load because the game freezes otherwise. Read the comments for more information.
Return to the Game List, the FAQ, or the Home Page.
Single-segment B ending: Easy mode 0:55 by Josh Ballard.
Get Flash to see this player.
Author's comments:
This single-segment, Easy difficulty, B ending run has the fastest known time for a full Valkyrie Profile speedrun.
One quick tidbit for the uninitiated: There are 3 endings in this game: The C ending (bad), the B ending (default), and the A ending (best). So this run finishes the game with the "regular" ending.
I got started on this project over a year ago. This is my favorite video game of all time, and it's not even remotely close; as such, I wanted to give it due respect by taking the time to make a truly high-quality run. I believed I accomplished this with my last run...
Then, out of nowhere came a fellow named Wally Jenkins. Just recently, he started contributing all sorts of wonderful info on this game to the SDA forums; all of it is meant for an A ending run, but I noticed one trick of his that could improve the B ending. This will be explained a bit later...
Do note, though, that this run probably skips more of the game than any other at SDA. I only enter the first and last dungeons and recruit no extra characters. As such, the run does not really show WHY this is such a great game; there is no substitute for playing it yourself.
This is really a collaboration between myself and Kevin Juang (a.k.a. Enhasa), as we have spent countless hours on AIM working through strategies for this run. Over this time, we have completely changed our whole route on several occasions. Also, as mentioned, Wally's posts are the entire reason that this improvement exists.
Basically, VP is a rather non-linear game. It is divided into 8 chapters, each of which contain several characters to recruit and dungeons to visit. Doing this costs you "Periods", of which you only have so many in each chapter. You can go through these characters and dungeons in whatever order you would like, or you can rest to completely skip chapters if you so desire.
You are somewhat limited, though, by your "Evaluation" rating. Essentially, the goal of the game is to level up characters and send them to Asgard. Since recruiting characters takes lots of time, I don't do this, and thus my evaluation decreases throughout the game. If it drops to 0, and you enter and leave a dungeon, you will trigger the C ending. This means I cannot afford to enter any dungeons after Chapter 4. Note that if your evaluation is 0 when you enter the final dungeon, you're fine.
With all of this in mind, there are many possibilities for a speedrun, and this is the reason we spent so much time working on this. The final strategy you see here is optimal.
Also, to explain Easy mode: The enemies actually are not any easier than on other difficulty levels. What is different is that the first dungeon is quite a bit shorter, and enemies give you much more EXP. There are also much fewer characters and dungeons available, but that does not affect this run at all.
At the start I set text speed to "page units", which doesn't actually help; I thought changing text speed was good, but it actually never matters at all. I just do this to keep people from asking "why didn't you change text speed?", as it doesn't cost any actual game time.
The first half of the run is pure plot. Feel free to skip it if you wish, but at least check out the funny glitching in the Harpy battle with Arngrim & Lawfer. I skip text that fast by holding R1+O (default R1+X); this is why text speed is useless, BTW. R1+O is also how I caused that glitch I just mentioned - discovered this by accident actually.
The first dungeon is pretty self-explanatory. Sliding is marginally faster than running when you exit a room with it. As for the boss...in this game you can transmute certain items, which turns them into other items. I bought a few weapons and turned them into magic gems, which I then used on the boss. Note that if a character has no weapon equipped, or a wand, he will always deal max damage with attack items.
After this, I skip the rest of the game and head straight to the final dungeon, Jotunheim Palace.
To start off, I buy top-quality armor for the party since they will need it to survive the last boss. Then it's weapons...Lenneth gets Last Avenger since it has an extremely high hit % and 3 attacks, Arngrim gets Flamberge since it has 3 attacks, and Jelanda gets Noble Desire for the 1200 magic defense it offers. I also buy some Noble Elixirs (completely heal party) and Lucid Potions (make a character invincible to single-target attacks), then some accessories. Stun Checks add Fire defense and protect you from getting dizzied, the Fairy Ring reduces Charge Time on spells and special moves, and the Material Gem increases max HP by 30%. My last item is the Halberd - I buy 40 of them and transmute them into Poison Crystals, which will be my only source of damage against the boss.
Then, the dungeon begins! Early on, I acquire the Ether Scepter to transmute into a Tome of Alchemy. This will be used shortly thereafter.
The platforming in this dungeon is not the easiest, as you may be able to tell. This actually scared me more than anything else in the run, as I wanted no major mistakes this time. There were a few close calls, but I clutched it out!
The first enemy I fight is for Spell Reinforce. These Vanir can drop Guard Reinforce, which can then be transmuted into Spell. This is the reason I bought those weapons for Lenneth and Arngrim - the higher the number of hits in a combo, the greater the chance of dropping a chest. I leave Jelanda out of the combo so she can finish the fight, as these guys are very weak to Poison. Acquiring this spell in just 1 battle was a nice stroke of luck, one of several in this run.
Right afterward I go into the menu to create the Tome of Alchemy and remove Lenneth & Arngrim's weapons. Remember, max damage from crystals!
The tall enemies in the rooms with icicles can be avoided on the way there, but not on the way back (the icicles push you into them). As such, I am forced to encounter them. In both cases, I use a Poison Crystal to kill the Wise Sorcerer in the back, then run away; if you fail to run and the Sorcerer's still alive, he has a move that wipes out the whole party. Successfully running immediately in both fights is yet more great luck.
Then we have some more platforming, then a quick fight. The Mithril Golem cannot be avoided, has a lot of HP, and casts a spell that raises his defense. As such, I use the Tome of Alchemy here for the instant kill; the EXP he gives is a nice help for the boss as well.
Some more platforming, then final save point. I tech Spell Reinforce to Jelanda and level up the Survival skill to raise everyone's max HP. After a few Elixirs to heal everyone, it's time for Surt!
The Material Gems, armor, and quick leveling help out here since he and his flunkies get the first attack on you; this is also why the Stun Checks are useful, as getting dizzied at the start is very very bad. There is a slight chance he can kill one of your characters here anyway, which I avoided. This is the last real element of luck in the run, and as with everything else it went perfectly!
When I get to act, I use Lucid Potions on everyone; they leave you invincible to all attacks except those that hit the whole party. Against Surt, they nullify his entire arsenal except for Ifrit Caress. The catch here is that you cannot use normal attacks or the effect will wear off, but you can still use items or cast spells from the menu.
The next turn reveals the trick I learned from Wally: Spell Reinforce is meant to increase the damage of magic, but it also works with attack items! On most enemies, Poison Crystals deal 8000 damage, but with this spell it goes up to 13,000. Against Surt the effect is even more profound; Poison Crystal damage increases from 6000 to 11,000! Combine this with the Lucid Potions, and we can constantly attack Surt while being safe from almost all of his attacks. Also, this is the reason Jelanda needs a Fairy Ring; Spell Reinforce normally requires a mage to wait a couple turns before doing anything (this is called Charge Time, or CT), but the Fairy Ring reduces CT enough to allow her to act on the next turn.
The one attack Surt can still use on us is Ifrit Caress. This is the reason for Fire protection on everyone and the Noble Desire for Jelanda, as the whole party can survive 2 of these spells with this equipment.
From here, the fight is rather predictable. Spam crystals, heal with Noble Elixirs when necessary, use another round of Lucid Potions after they wear off, and eventually he dies.
I feel this run is as close to perfect as it's going to get without TASing. My luck throughout it could not possibly have been any better, and I made no major mistakes. This was my very first attempt on this run, believe it or not!
However, if you feel that the final boss battle was too boring in this run, I would recommend checking out my previously published one at archive. The strategy is completely different, and I have a full party and beat Surt with actual combos and such. This run is better-executed, and faster since it skips recruiting and dungeons, but the older one is probably more entertaining.
I think that about sums it all up. Currently Kevin, Wally, and I are planning a single-segment run of the A ending. This is quite a task indeed, as you fight 3 final bosses who are all harder than Surt, but very possible indeed. If you liked this one at all, the A ending will absolutely blow you away! =)
Final shoutouts:
tri-Ace - For making my favorite video game ever, along with other great RPGs. Play VP2 if you haven't already!
Kevin Juang/Enhasa - For showing me the tech in VP and fantasy football & basketball, and just being a cool guy and knowing his stuff in general. Also for introducing me to such words as "tech", "beats", and "bashing" to go along with the "hella dope" and "hype" that the fighting game kids love.
Captain K - For writing the only FAQ you will ever need for this game. We referenced it many a time during our planning.
Wally "Not Leeroy" Jenkins - For telling me about Spell Reinforce, which led to this updated run.
tri-Ace Fanboy - For producing the first VP speedrun (1:07:22) to be uploaded to the interweb. I blatantly stole and slightly refined his strategy for the first boss, and his run also gave me the idea to use Tomes of Alchemy. His video walkthroughs are nice reference material as well, and he told me to have Arngrim and Jelanda use gems on the first boss, which I wasn't doing before.
Mike Uyama - For being Mike Uyama, and helping SDA to publish runs more quickly. I can'ts reads the music!
Team Serious, Team Illiniowa, and all my other friends - <3 you guys, and hope some of you enjoy this!
Sabaton - For being my favorite new metal (NOT nu-metal!) band out there. Power metal based on actual wars as opposed to elves and dragons and Frodo, who woulda thunk it? Yes, it's a random plug, deal with it. Besides, I would think there's a high concentration of metal nerds among VP fans. =P
And finally ----
My family - For being the super best ever!
'Till next time...
-Josh Ballard
Single-segment A ending: 2:33 by Josh Ballard.
Get Flash to see this player.
Author's comments:
Well, a year and a half after completing my last B Ending run, here we are with the A Ending! This is much longer and much more plot-heavy, so there are large sections I would recommend skipping.
This is a single-segment run on Normal difficulty. The enemies are exactly the same on Normal & Hard; Hard just adds extra dungeons (which are pointless for a speedrun) and starts every character at level 1. There is virtually no difference in strategy either way, so Normal with its higher levels is the way to go. And what of Easy, you ask? Simple: It is impossible to achieve the A Ending on Easy mode!
When actual gameplay begins, I pull off a standard run through the first dungeon. Notice that it takes longer than in my previous runs; Easy mode cuts out a large portion of it. Boss fight is the same, turn weapons into gems to throw at everyone, etc. I keep both artifacts afterward for a very important reason which will be explained shortly.
Following this, I search until I find the Solde Catacombs. The luck here was pretty good, as it can easily take more searches than this. The only purpose of this dungeon is the Avoid skill, which is transformed into the single best skill in the game: Guts! Guts will allow your characters to survive a killing blow a certain percentage of the time, which increases as you level it up. If this were a segmented run, you wouldn't be reading this paragraph at all, but for an SS you need Guts to make it through those party-destroying attacks that bosses love.
After this is where things get a bit strange for the viewer, as I level up Jelanda & her traits and send her to Asgard, then skip the rest of Chapter 1. This is one of the key elements to Wally Jenkins' awesome strategy for this run, which I might as well start explaining now.
If you go through the first 4 chapters without transferring anybody, it will be impossible to get the A Ending because your Evaluation rating will be too low for the plot segments, causing Freya to come down and be all like "NO YOU DI'NT SISTA" and nuke everyone for the C Ending (just a game over, basically). Avoiding this requires a specific series of actions, including keeping the artifacts & sending Jelanda. The former reduces your Evaluation a little bit, but the latter increases it back to a perfect 100 after Chapter 1; the artifacts will pay off later. You also gain a number of useful items from the transfer, including a Fire Lance spell and a bunch of Element & Ether Scepters (spread across each chapter).
Following all of this, I skip Chapters 2 & 3 altogether. Chapter 4 is where a lot of the action is...
I begin with a visit to the Weeping Lily Meadow, then one to Brahms Castle; I could have done this stuff in Chapter 3, but it makes no difference either way. These events are necessary to reduce Lenneth's Seal Rating, which is separate from her Evaluation and determines whether or not you can achieve the A Ending. Brahms' place also has a useful weapon - the Beast Slayer sword. It is decently powerful for that point in the game and kills certain monsters in one combo. This is something else which would be unnecessary in a segmented run, but in an SS it is preferable not to run away from monsters.
After tons of searching, we finally learn of the events leading us to the Tower of Lezard. This is an enormous dungeon, and it is easy to get lost when playing normally. You only get to see a fraction of it here, though. The mage Lorenta joins the party here, and her presence is more than welcome; right off the bat, she has a lot of the most important spells for a speedrun (Mystic Cross, Fire Lance, Sap Guard). I materialize (read: buy) a lot of equipment & items, some of which are needed now and some of which come into play later. The Power & Magic Bangles increase attack power for everyone by 50%, the Protect Charms make you immune to abnormal status but have a chance of breaking, and the new weapons for Lenneth & Lorenta are necessary for the boss fight here. I also transform the Element Scepters into Tomes of Alchemy, which instantly kill all normal enemies in a battle.
So after getting everything set, I dodge all the monsters up until the Manticores. It looks like you can jump over these guys, but their sprite is just too large. This is why I got the Beast Slayer, as it kills them in one combo. To reach the boss room, you must activate the two crystals in this area, one of which is guarded by a Manticore and the other of which is guarded by a Dragon Zombie who is also impossible to avoid. This fight features two Dragon Zombies, who will wipe out your party in short order; I use a Tome of Alchemy to keep them from getting a chance.
After the crystals and some more monsters to dodge, we reach the boss fight with Lezard and two Dragon-Tooth Warriors. These henchmen have tons of HP and deal huge amounts of damage, and most importantly of all, upon death they will possess Lezard and double his HP among other nasty benefits. Through experimentation, I found that using a Tome of Alchemy gets around this since the dragons don't "die" in the conventional sense but are turned into EXP crystals. Without the gains from possession, Lezard is a simpering wuss who is taken care of without much hassle.
This ends Chapter 4, leading us to an "all plot, no action" part of the game. In Chapter 5, I give back both of the artifacts I took earlier, which increases my Evaluation just enough to avoid Freya's PMS the rest of the way. I then recruit Mystina & Lucian then transfer Lucian, which is all required for the A Ending. The transfer also nets us a Guard Reinforce spell, which is transformed into Spell Reinforce and given to Mystina along with Fire Lance.
I then skip the rest of that chapter and all of 6 & 7. More plot stuff etc. etc.
Chapter 8 is where things finally pick up again...after yet MORE long unskippable plot. I do buy the last few things we need, though. I also bought stuff earlier which wasn't mentioned, so I'll explain it all here. Halberds transform into Poison Crystals, which deal great damage. Lucid Potions prevent a character from being targeted; if the entire party uses them, they are invincible to everything except great magic (the FMV spells). The catch is that you cannot use normal attacks or the effect wears off, but you CAN still use items and cast spells from the menu, making Lucid Potions and Poison Crystals a lethal combination. The Bahamut Tear is the best heavy sword available outside the Seraphic Gate, and the Ether Scepters are the best wands available outside the Seraphic Gate (have a chance of breaking, though). The Fairy Ring reduces the Charge Time on your character's special moves and/or spells. And Angel Curios will revive your character even if Guts fails, though they can break. I think that about covers it!
Upon reaching the final area, I fight a group of Vanir and use the last Tome of Alchemy. Much to my surprise, they drop Might Reinforce on the very first try! Just an insane bit of luck there, since if they drop any chests at all it's still only a 25% chance. This spell is crucial to defeating the final boss quickly, and Mystina gets it since Lorenta already has Sap Guard.
Next up is the first boss of this area, Bloodbane. He has incredible physical defense, so I don't even bother with weapons for the fighters, instead letting the Lucid Potions & Poison Crystals do most of the work and finishing him with a combo into two spells. An important note here is that Spell Reinforce greatly increases the damage of gems & crystals as well as actual magic spells, as seen in my B Ending run. Additionally, finishing him with a big combo is important because at low life he will constantly cast great magic, which doesn't give a damn about Lucid Potions. Notice Mystina's death, which was about the only unlucky bit of this whole run; she needs the Magic Bangle for damage and the Fairy Ring to cast Spell Reinforce without adding any Charge Time, and those things more than make up for the turns lost to death. After this fight, Bloodbane leaves behind the Levantine Sword, which goes to Lenneth since Arngrim already has the Bahamut Tear.
The second boss of Asgard Hill is Fenrir, and it's mostly the same idea as Bloodbane: Safely pelt him with Poison Crystals and finish with a big combo. His physical defense is not as high and he actually has an elemental weakness (Fire), so I give the fighters their best weapons and use Fire Lance in place of Mystic Cross. Nothing else to say here, everything went as it should. Following this, I give Arngrim the Levantine, switch the mages back to Mystic Cross, and shift accessories around.
Shortly after this, I enter a room, exit, then go back. This is to get the giant Wraith enemy to spawn in a spot where I can run and slide underneath him. Took me forever to figure out how to avoid that guy...
And then we have the game's true final boss, Loki. He is unbeatable in the first encounter; so you merely have to survive three turns. Lucid Potions come in handy for the last time here, as they prevent him from using his big "kill the entire party" attack.
After one last plot/FMV sequence, it's time for the final battle! As part of said plot, Lenneth acquires a ludicrously overpowered sword known as the Glance Reviver (also available in the Seraphic Gate). Not only is its attack power through the roof, but it gives her access to the "level 3" version of her special move, which is in a separate universe from anything else available in the normal game. Hence, the main strategy of this fight is powering her up as much as possible. This is accomplished through equipping a bangle like always, casting Might Reinforce (party's attack up 50%) and Sap Guard (enemy defense down 50%), and then performing a full 4-character combo with Lenneth at the end (the 3rd special in a combo gets a damage boost, and the 4th special receives an even larger boost). The rest of the party's equipment is geared more toward survival since their damage output does not matter. Everything goes swimmingly and the big bad boss goes down in a single combo!
Overall, I am not so pleased with the execution of this run, as I am slow in the menus at times and there are other minor mistakes. But luck counts for far more than skill in an RPG SS like this, and this run was just too lucky to throw away. This will definitely be a tough time to beat!
Major thanks to Enhasa for being my partner in crime & speedrun strategy, Wally Jenkins for creating the main strategy of this run, Mike Uyama for lots of stuff (keep playin dat Samsho!), and SDA for everything (especially putting up with my SLP recording!).
This will be my last speedrun, without question. I lost interest in the whole endeavor some time ago but had made a promise to finish this one, mainly just to honor the only non-fighting game I still like anymore and keep my word to Enhasa & co.
Since there won't be a next time, I just wanted to say thanks again to this site and the people I've met through it. You'll still see me around from time to time, so don't worry!
Enjoy the run,
Josh Ballard.
Single-segment 100%: 4:29 by 'もか'.
Get Flash to see this player.
Author's comments:
英語版と日本語版の相違点について
日本語版は英語版と比べてムービーが少なかったりするので日本語版の方が有利です。
よって、英語版で今回の条件と同じプレイをされる方がいれば、今回のタイムより数分遅れ程度ならそれは掲載されるべきだと考えます。
ちなみに、ボスの能力値は日本語版も英語版も違いはありません。
バグについて
ヴァルキリープロファイルには多くのバグが存在します。今回のプレイで一番厄介なバグは、特定の場面でフリーズするバグです。
フリーズする場面は大体把握しています。Chapter8でガノッサが仲間になるイベント中、または鈴蘭の草原に行ってアスガルト丘陵へ行くための最後のイベント中のいずれかで必ずフリーズします。
よって、ガノッサが仲間になる直前のセーブポイントでセーブをし、本体の電源を切ってセーブデータをロードしなおすことによってこれを回避しています(もちろんこの間に休憩などは一切行わず続けてプレイしています) PS2(SCPH-70000とSCPH-90000の両方)に加え、熱暴走などの物理的要因が絡まないPSエミュレータを用いても同様のフリーズが起きたため、これはソフト固有の問題であると考えられます。
アクションについて
マップ切り替えの直前にスライディングをするテクニックは重要なのですが、スライディングを行うためには瞬間的にその場に立ち止まらなければならず、私にそれは難しすぎるのでそのテクニックは使用していません。
参考になるかどうかは分かりませんが、アクション面は全てアナログスティックで操作し、メニュー画面や戦闘でのみ十字キーで操作しています。
以下、動画を観ただけでは分からない部分だけを説明します。ここでこのアイテムを生成して誰々に装備させてボス戦はこのような戦略で~などと詳しく書いているとあまりに冗長な文章になるので・・・。
リセットについて
Single-Segmentと言えども、あまりにタイムが遅い場合や納得がいかないことがあった場合はリセットをして最初からやり直しています。
具体的に言うと、最初の戦闘で3回以上ガードされた場合と、雑魚敵とエンカウントしてしまった場合と、最初の精神集中パターンが「ベリナス→ゾルデ地下墓地」でなかった場合と、Chapter4のレザート戦でエーテル・セプターが壊れた場合です。
精神集中パターンをそうする理由は、この精神集中パターンだと精神集中の最後に忘却の洞窟が来るため、精神集中の使用回数を減らすことが出来るからです。Chapter6を例に挙げると「バドラック→水中神殿→グレイ→亡失都市ディパン→詩帆→忘却の洞窟」という順番で現れるので、最後の2つを丸々カットできます。
忘却の洞窟について
忘却の洞窟はクリアの概念がないため一切攻略していません。
ラウリィについて
今回のプレイでは、全仲間を加入させる必要は無いので、誰も加入させないとなると使えるキャラクターはレナス、アリューゼ、ジェラード、カシェル、ロレンタ、メルティーナ、ルシオ、ガノッサです。
この仲間だけで十分なように思えますが、実際はC Endになるのを避けるためにたくさんのキャラクターを神界転送しなければなりませんし、ラウリィの通常攻撃の三番目の攻撃であるエイミング・ウィスプは必中攻撃であり、ガード率が高いボス戦において極めて攻略が安定するのでChapter1で加入させています。
サレルノ実験場跡のハルピュイア、古代墳墓アメンティのアズタロサ戦の攻略が特に容易になります。
ブラムス城について
ここのボスはブラムスなのですが、倒さなくてもダンジョンクリアなので倒していません。
それでも倒したいのなら、ジェムを生成して投げつけるだけで簡単に倒せます。
奇岩洞窟について
奇岩洞窟に入る条件は、カシェルを仲間にすることなのでカシェルを仲間に入れています。今回のプレイではカシェルは一回も戦闘に出してませんが・・・。
いろいろ調査しましたが、カシェルを仲間にしなかった場合、最後のChapterであるChapter8になってもカミール村は崩壊しません。カミール村住民の平和を願うのならばカシェルは通常プレイでも仲間に入れるべきではありません。
後のChapterで攻略するダンジョンについて
ゾルデ地下墓地とサレルノ実験場跡と暗黒塔ゼルヴァはそのダンジョンが出現するChapterでは攻略しません。それは以下のような理由によるものからです。
ゾルデ地下墓地は絶対に避けれない敵シンボルがたくさんいるのでタイム短縮のためにはディメンジョン・スリップを入手してからでないといけない。
サレルノ実験場跡は大魔法を使えないとボスを1ターンキルできない。
暗黒塔ゼルヴァはルシオがいた方が紫炎石をたくさん稼ぐことが出来、ボス戦が安定する。
精霊の森について
精霊の森は、一回クリアした後に再度ダンジョンに突入するとまたボスと戦え、新たなアーティファクトも入手できます。
しかし、新たなアーティファクトを入手してもこれ以降タイムが短縮すると言うことは無く、かえって遅くなるので攻略していません。
古代墳墓アメンティでの死の乱用について
通常ボスを倒すと敵が徘徊しなくなり、わざと全滅してダンジョンの外に出るというテクニックは使えません。
しかし、古代墳墓アメンティには宝箱のトラップとしてエネミートラップが存在し、ボス撃破後もモンスターと戦うことが出来ます。
死の乱用はあまり好ましくないテクニックなのは承知しておりますが、ただ単に一度来た道を戻るだけよりはエネミートラップで全滅して戻る方が高度なテクニックであると思ったので敢えて使用しました。
最後になりましたが、私にSDAを紹介してくださり、投稿するにあたっても様々なサポートをしていただいたMT氏、多国籍プロジェクトが発足する以前から応援してくださり、今回のプレイをする発端ともなったEnhasa氏に心より感謝申し上げます。また、私の日本語コメントを英語訳してくださったMike氏にも感謝致します。
Author's comments in English:
Differences between the English and Japanese versions:
The Japanese version is better for running than the English version because it has shorter cutscenes.
Therefore, if someone submits a run for the English version under the same conditions, I think it should be posted despite the slower time (a few minutes).
By the way, there is no difference between the bosses in either version.
Bugs:
Valkyrie Profile has a lot of bugs. For this run, the most troublesome bug when the game always freezes in a fixed spot.
The bug either happens in chapter 8 when I recruit Gandar, or in Asgard when the final event triggers. Either way, the game definitely freezes.
Therefore, right before I recruit Gandar in my party, I save my game, turn off the power, then load my game to prevent the game from freezing
Of course, during the time the game is turned off, I don't take a break and continue playing the game.
This freeze bug is a software-related problem because it not only occurs on the PS2 (both the SCPH-70000 and SCPH-90000 models), but also on PS emulator (which doesn't have a physical cause like heat).
Platforming:
Sliding right before switching between screens is an important trick, but in order to slide, you have to stop yourself. For me, this is too difficult, so I did not use this trick.
I don't know if this information is helpful, but I used the analog stick for all of the platforming, yet only the d-pad can be used for fights and menus.
Below is an explanation of parts of the run you wouldn't be able to understand just from watching the run.
Writing out all of the items I created and equipped for each boss battle would turn these comments into a wordy essay...
Reset
Though this is a single-segment run, if there is a situation that slows me down too much, then I reset and retry from the beginning.
I definitely reset if: my attacks are blocked 3 or more times during the first battle,
I run into a normal enemy by accident, if the order of "Belenus->Solde Catacombs" doesn't appear during my first spiritual concentration, or the Ethereal Scepter breaks during the chapter 4 Lezard battle.
The reasoning behind the first spiritual concentration is that with the "Belenus->Solde Catacombs" pattern, the last concentration is the Cave of Oblivion. As a result I can reduce the number of times I use spiritual concentration.
To give an example in Chapter 6, with the order of "Badrach -> Sunken Shrine -> Grey -> Lost City of Dipan -> Shiho -> Cave of Oblivion", you can cut the last two spiritual concentrations (Shiho -> Cave of Oblivion) from the list.
Cave of Oblivion:
I don't go inside the Cave of Oblivion because there is no record whether it is cleared or not.
Llewelyn:
It's not neccessary to add everyone in my party for this run.
These are the characters that can be used if you don't add anyone extra to your party: Lenneth, Arngrim, Jelanda, Kashell, Lorenta, Mystina, Lucian, and Gandar.
Even though those characters seem like they would be enough, I actually need to transfer a lot of characters to Asgard to avoid a C ending.
Also, recruiting Llewelyn in chapter 1 gives me a reliable strategy against bosses who guard frequently because his third attack, "Aiming Wisp", always hits (it's unblockable and never misses).
Llewelyn makes the Salerno Academy Harpy battle and the Tombs of Amenti Akhetamen battle significantly easier.
Brahms's Castle:
Brahms is a boss, but you can clear this dungeon without fighting him.
In case if you want to fight Brahms, you can create a gem and use it to defeat him easily.
Oddrock Caves:
To enter the Oddrock Caves, you have to recruit Kashell in your party, despite not using him once in this run...
I researched this dungeon thoroughly, and if you don't recruit Kashell in your party, Camille village won't be destroyed even if you visit it during the last chapter.
If you want the people of Camille to live peacefully, then you shouldn't recruit Kashell in a normal playthrough.
Switching around dungeon order:
I don't enter Solde Catacombs, Salerno Academy, and the Dark Tower of Xervah during the chapters they appear. The reasons are listed below.
Solde Catacombs has enemy symbols that definitely cannot be avoided. Collecting the dimension slip for this dungeon is necessary in order to save time.
I can't kill the Salerno Academy boss in one turn without great magic.
It's a good idea to have Lucian for earning purple gems in the Dark Tower of Xervah, he makes the boss battle more stable.
Forest of Spirits:
After you clear the Forest of Spirits once, you can reenter and fight the boss again to collect a new artifact.
However, collecting this artifact doesn't help save time, in fact, it makes the run slower.
Death abuse in Tombs of Amenti:
Usually you can't eject yourself outside by killing off your party when you defeat a boss because all of the enemies disappear.
However, in the Tombs of Amenti, there is a trapped treasure chest containing an enemy that still exists even after defeating the boss.
Although I understand death abuse is not preferable in SDA, I used it to avoid boredom (both watching and playing). I also believe this death abuse is a better technique for speedrunning than running through normally.
Finally, from the bottom of my heart, I like to express my gratitude towards MT for introducing me to SDA, helping me with submitting, and various other support; Enhasa for assisting me before the translation project took place; and Mike for his great effort translating my Japanese comments into English.
Single-segment Seraphic Gate 0:15:43 by Kevin Juang.
Get Flash to see this player.
Author's comments:
First I would like to thank the SDA crew: Nate for encoding for me even though he didn't have to, Mike for being an awesome guy in general and a good friend, DJ because he don't get no respect, and Radix for being the godfather. Also I should thank my brother Michael for giving me his leveled up save file, Josh Ballard for his B run and the whispering of sweet nothings about A run, spineshark for inspiring me to actually finish because his frothing demand for this game was increasing, Captain K for his FAQ, the people at enixfans for their good info, tri-Ace Fanboy for reminding me of a couple obvious things, and everyone in the VP thread for their suggestions and support.
Before I continue, I should bring up some background. I normally kill Gabriel Celeste in 1 PWS chain and kill Iseria Queen in 2 PWS chains. In this run, I have to tack on some extra hits after the 2nd PWS chain vs Iseria, which is similar to Josh's original B ending run vs Surt. This has led some people to believe that changing setups should actually save a turn. All I actually have to do to prevent this is to either get luckier (Lenneth using Guts), equip Lenneth with an Angel Curio (and thus needing to Charge Break), or to just throw in some attacks in one of the first turns.
Now for the lame excuses part. This run uses a save file, but it's not perfect. You would ideally want to do things like luck manipulate all your Golden Eggs, Holy Drops, and level ups for max stats. If I ever got a "perfect" save file, I could redo this run to "perfection," but as is, it was hard to motivate myself since the run's potential was capped from the start.
I originally wanted to do this run over a year ago, and being the fool I was, I thought I could download a save file from gamefaqs and this would take me a day at most. Well, not only did the save turn out to be hacked, even with crazy stats the run proved to be nontrivial, as this hacked team struggled to deal good damage without SG weapons. So then I spent small bits of time over the next year doing research until I finally got a 2 week block of free time. My goal was to finish the run as fast as possible so that I could mail spineshark my copy of the game so he could play it, and so I could play The Red Star. I spent the entire first week and a half failing attempts, waiting for TSS tourney matches on IRC, and not being able to find The Red Star in any stores whatsoever. Finally, as I was going to sleep one night, I checked the gamestop store locator and found one copy in a 50 mile radius from me. So I did what any reasonable idiot would do and stayed up all night, finishing past 6am. I play like, well, someone who has stayed up all night, but since I'm generally good at platformers, hopefully it still looks ok to you.
---
Mike has his InFrequently Asked Questions, but here I have some AAQ (Actually Asked Questions), asked by friends, forum members, and verifiers.
Q: How are you able to run through the enemies like that? -or- I thought you got the thing that lets you do that, IN the Seraphic Gate?
A: The Dimension Slip lets you do this. The Unholy Terrors in SG can drop them, but you can also get them by transmuting Bark of the Dryad (from beating Nethov Swamp) with Creation Gem. Needless to say, this saves a tremendous amount of time.
Q: Why do you pick up the event experience after Iseria Queen? You don't need it to leave.
A: Getting the tri-Emblem signifies that the dungeon is beat; listen to the music change. You can leave whenever you want if you don't want to see the "Congratulation!" screen.
Q: Why don't you use Jun with Kusanagi instead of Lawfer with Dinosaur? It's right there on your path! I thought Kusanagi was better since you get it in SG.
A: Kusanagi has an attack of 2990 (attack trust 40), while Dinosaur has 3000 (68). Lawfer's PWS multiplier is 8.787 (3rd best for a fighter), while Jun's is 5.625 (below average). Jun is still a good choice because his PWS does 15 hits (2nd best for SG purposes), while Lawfer's does 10 hits (3rd best). If I wanted to go for hits though, I would use Lucian definitely. Like I said though, Lawfer gets the job done and I don't need to find a weapon for him.
Q: Why don't you use a second mage with Holy Wand of Telos instead of Lawfer with Dinosaur? This would allow for one less turn of buffing too.
A: While Holy Wand of Telos would be a bit better, and the lack of Great Magic actually means the PWS takes a couple seconds shorter than Lawfer, Telos is just way out of the way. It's not worth the time it takes to get.
Q: Why does Lenneth start with practically no HP?
A: This roughly doubles the power of Levantine from 2200 to 4400.
Q: Why don't you use the Glance Reviver? -or- Why don't you use Freya?
A: For SDA, a SG run starts from the Seraphic Gate option in the menu and not continue. So all preparations need to be done in the main game.
Q: Should you have a different attack setup somehow? Your current one looks a bit weird.
A: I actually went through many setups trying to find one that would allow everyone to PWS before they moved back to their starting positions. This one is a little funky and misses hits, but I went into the practice mode, tested it repeatedly, and it works 100% of the time.
Q: Why don't you reorder High Wind 3rd so Arngrim uses it instead of Wrenching Swing? Or use a move for Lawfer that is faster than Triple Thrust?
A: I had no idea until I tested it recently (although it might just be my bad memory again), that it actually doesn't work that way, and you have no control over what move you get with a one-hit weapon.
Q: Why do you have Noble Elixir set in Auto Item? It just wastes time, and the chances that it actually helps you are low.
A: Noble Elixir is in there JUST so I don't get stuck not being able to Charge Break. This happens most of the time; like if Arngrim used Guts, the run would be over. If it weren't for that, I would only carry 2 Noble Elixirs and then use them before Iseria Queen.
Q: Why use Throw against Gabriel Celeste? Why not Auto Item like you use against Iseria Queen?
A: Noble Elixir only hurts the Gabriel Celeste fight. What happens is, if Gabriel hurts someone enough (either Arngrim or Lawfer), then Noble Elixir will trigger. Then Levantine won't be good enough to kill in one PWS chain.
Q: Does Sap Guard make a big difference against Iseria Queen? Her RDM is not really that high to begin with.
A: The reason I use Sap Guard at all is because otherwise I have to use 3 PWS chains to kill. But I don't need 2 chains of Sap Guard because that's overkill. Using it in the down turn lets me save a turn of Iseria Queen attacking. Think of it like, 2 buffs aren't enough, 3 buffs are too much, so I use 2.5 buffs.
Q: What about putting Mystina 4th in the PWS chain against Iseria Queen? This would do slightly more damage.
A: This one slipped by me. I always knew that Mystina does more damage, but I was under the impression that Lenneth could only go 3rd with a bow. I tested both by energy and hits, but I was wrong; Lenneth's level 3 sword Nibelung Valesti does add 10 hits and 65 energy. I tried Arngrim 3rd against Gabriel Celeste with Mystina using Shadow Servant (Meteor Swarm is 5 secs faster than Celestial Star), but since it barely wasn't enough, I went with Mystina 3rd with Mystic Cross. I would try again with Mystina 4th using Shadow Servant for both fights.
Q: Why did you pause after Gabriel Celeste?
A: Believe it or not, the slight pause is in the game.
Q: On the way out, on the second "floor," why didn't you slide while falling down that once?
A: The slide's momentum would carry over to the next screen and propel Lenneth away from the door, so it's slower.
Q: Are there any tricks you wished you could put in the run?
A: Maybe the thing that pissed me off the most was that I got caught by the save point information message on the way out. I was totally ready for it but somehow I still barely didn't jump early enough. You can see me jump and swing my sword in frustration. ;)
There are a couple tricks with the platforming too. For those island platforms with the chains between them, you can actually bypass the chains and just jump from platform to platform, but the risk/reward isn't worth it. Also, in the standard 3-platform rooms where you have to go from the lower right to the upper left, it's possible to do the whole room without pausing, but that's also a poor risk/reward situation.
The final thing is that I had ideas for all sorts of exotic equipment, spells, characters (mainly based on PWS time which I include below), but out of necessity, I use the relatively boring Lenneth/Arngrim/Lawfer/Mystina. I was hoping to get Suo, or god forbid, Kashell in there somehow.
---
Here are the times (in secs) for all of the PWS's:
Nibelung Valesti (level 1): 14
Nibelung Valesti (level 2): 24
Nibelung Valesti (level 3): 30
Freya: 21
Arngrim: 15
Lawfer: 11
Belenus: 14
Llewelyn: 12
Kashell: 10
Janus: 13
Aelia: 24
Jun: 11
Badrach: 14
Grey: 13
Jayle: 11
Suo: 9
Lucian: 13
Brahms: 14
Fire Storm: 9
Fire Lance: 7
Icicle Edge: 10
Frigid Damsel: 9
Dark Savior: 9
Shadow Servant: 10
Mystic Cross: 7
Sacred Javelin: 8
Lightning Bolt: 7
Prismatic Missile 10
Stone Torch: 7
Poison Blow: 7
Ifrit Caress: 24
Calamity Blast: 23
Crystal Strike: 21
Absolute Zero: 23
Cosmic Spear: 22
Meteor Swarm: 20
Celestial Star: 25
Seraphic Law: 20
Dragon Bolt: 21
Gravity Blessing: 22
Carnage Anthem: 23
Petro Disrupt: 20