Released in December 1988, The Adventure of Link follows Link on a side-scrolling quest through Hyrule to place six crystals back in their palaces, and eventually wake the sleeping princess Zelda. Highly criticized as being too different from the first Zelda, The Adventure of Link introduced some elements that would be seen in many later Zelda games such as towns and magic, but other things never seen again such as experience points and 1 ups.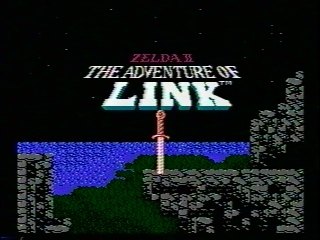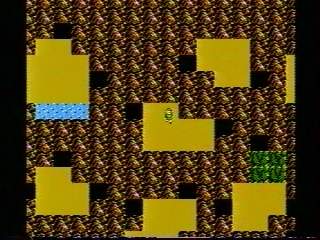 Return to the Game List, the FAQ, or the Home Page.
Single-segment 1:01:21 by John Nurminen.
Get Flash to see this player.
Author's comments:
Comments to be added later, just don't know what to write at the moment. Time of the run is 1:01:21
Single-segment with Up+A Warping and deaths: 0:57:43 by Kristian Emanuelsen.
Get Flash to see this player.
Author's comments:
This run category is Zelda II at its fastest without major glitches, playing from a newly created game file. You are allowed to use the warp trick back to The North Palace start point, which involves pressing up+A simultanously on controller 2 after bringing up the spell screen with the start button on controller 1, and then choosing the continue option. This gives you 3 lives again, but you also lose your excess experience points. You also have the freedom to abuse death, which can save some time, e.g. at the palace items, which are usually positioned at dead ends in the palaces. Instead of backtracking from the position of the item, you intentionally take damge to die near the dead end as quickly as possible after picking up the item, being transported back to where you entered the room. This also applies for the hammer item. But perhaps the most important thing about the death abuse is that dying refills your magicbar, enabling the use of more fairy spells through palace doors. You can skip more keys that way.
I aim for fastest time in this run, not best style. I skip the following helpful things in the game to save time: Candle, magic key, cross, shield, life, fire, spell, three heart containers, the upward thrust and plenty of palace keys.
I'm especially happy about my avoidance of random enemy encounters on the overworld map in this run. The route and levelling are also very good, but I believe my fighting execution leaves a lot to be desired. I take too much damage throughout, and coupled with unwanted deaths, one in Death Mountain, one on my way to Darunia Town and one in The Great Palace, I'm still not sure it's wise to publish this run, as the time of sub 58 minutes simply sounds better than how this run actually looks visually. At least that's how it seems to me. I remember also being very surprised at how good the time ended up being when recording this speedrun. I didn't expect it to be sub 58 minutes, and hadn't watched my timer since somewhere around the 4th palace, and could barely believe my own eyes really. There's definitely room for improvement in this one, but it's also the most difficult speedrun category for Zelda II imho.
Thanks to Rodrigo Lopes for being such an inspirational Zelda II competitor.
Thanks to the SDA crew for their awesome work and for publishing this run and other incredible speedruns.
European version single-segment with Up+A Warping and deaths in 1:05:00 by Kristian Emanuelsen.
Get Flash to see this player.
Author's comments:
Zelda II is my favorite NES-game and because of nostalgia it's also my all-time favorite game. This game had everything I wanted from a videogame at the time of release. I hadn't played The Legend of Zelda (which is also a great game and a difficult one, but very different and not as technical), which was probably an advantage. Zelda II gets a lot of unfair stick. Those who haven't played The Great Palace with the revolutionary AI of the Dreadhawks there shouldn't criticise the game IMHO. But I am the first to admit that a speed run of this game contains too much fairy-casting through locked doors. Though a speed run without it would be even longer and this speed run is over 1 hour long...
The Zelda II European Version is modified, meaning that movement on the overworld-map is 5/6 speed compared to the American Version, but the sidescroller-scenes are almost as fast.
This run is exactly as minimalistic as my previous run: I skip the spells: Shield, Life, Fire and Spell. I skip the items: Candle, Cross and Magickey. And I skip three Life-containers (it's possible to skip four).
Speedrunning Zelda II takes a long time and can be quite frustrating. I'm not sure this run is better fighting-wise than my previous 1:06:17 run, but it's certainly more clever and faster. By changing around on my route and level-up system I decrease the luck needed when it comes to magic-potion/experience-bag droppings.
For those who aren't as familiar with the game as me, I will try to explain how the magic-potion/experience-bag dropping system works: After killing 5 'big enemies' you will have a 50/50 chance of either a magic-potion (refills your magic) or an experience-bag (200 experience points) at the drop of the next 'big enemy' killed. (Bosses, Blue Ironknuckle and Red Lizalfos don't count). E.g.: I kill 5 Orange Moas ('big enemy') at the entrance of Maze Island Palace (4th) to set me up for a magic-potion (refilling my magic to cast Fairy-spells through locked doors, saving time skipping keys) inside the palace at the first Red Ironknuckle. It will save me two lives and a lot of time. Fingers crossed for not getting an experience-bag there...
I get maximum luck on magic-potion/experience-bag droppings in my run:
A magic-potion in Parapa-Palace (saves one life - 1 extra Fairy-spell needed).
An experience-bag in Midero-Palace (1 of 2 needed to level-up).
An experience-bag in the Island-Palace (needed to save time, not killing an extra Blue Ironknuckle for level-up).
A magic-potion in Maze Island Palace (needed to save two lives and a lot of time: 2 extra Fairy-spells needed).
A magic-potion in Three Eye Palace (saves one life: 1 extra Fairy-spell needed).
Here's my thoughts on how the key areas of the game were done in the run:
Death Mountain: Far from perfect, but I can't complain with no unwanted deaths there without the Candle. Unlike my previous run, I use a death-abuse at the hammer-location to save time, and leave here with stats 3-1-2 instead of 4-1-2 (Attack - Magic - Life). I compensate this 'loss of experience' by taking on Midero Palace (2nd) with stats 3-1-2 before Parapa Palace (1st), something that would prove costly...
To The Water of Life/Medicine: I avoid the random encounter in the swamp and do some acrobatic jumping inside the unlit cave.
Midero Palace (2nd): Why oh why... It wouldn't be a Kristian Emanuelsen Zelda II run without the one unwanted death in it would it? Everything went smoothly in here until THAT Blue Stalfos drained almost all my life-energy. Enough to make one hit from Helmethead lethal... I kill him without getting hit afterwards of course. Room for improvement.
Parapa Palace (1st): Pretty straight forward and easy entering here with 5-1-2. Thankfully, I got the magic-potion instead of the experience-bag.
Island Palace (3rd): Went well, but I unnecessarily turn and kill the Red Ironknuckle at the entrance.
Rescue the child and to Darunia: I "waste" some time on my way to Darunia, can't complain overall though, faster than usual.
Maze Island Palace (4th): As stated before, the killing of the 5 Orange Moas at the entrance aren't just for experience-gaining, but also to set me up for a magic-potion that is a definite must in this palace. I can therefore "fairy" my way around the palace with only one death-abuse instead of three. Carrock goes down very quickly indeed. On my way to the Boots, I choose to level-up Life to 4, so that I can survive one hit from Gooma if my life-energy is full there. I didn't take a hit from Gooma later on, so it proved to be time-wasting...
Ocean Palace (5th): Not very good, a somewhat lack of concentration. Too many small stops for my liking. I do a death-abuse to refill my magic at the beginning, as it is slightly faster than going back to get the key. I use Fairy-spell at the locked door instead.
To and from New Kasuto: I get lucky again, being able to skip the first of those three similar tiles with hitting a random encounter at the right time. When entering Three Eye Palace I prefer to have killed 5 'big enemies' on my way, setting me up for a magic-potion/experience-bag to refill magic there. Therefore some of the random encounters to and from New Kasuto are wanted, but not the second last one where the Red Lizalfoses dwell in the woods as those don't count when it comes to magic-potion/experience-bag droppings.
Three Eye Palace (6th): All went well, except that Barba should be disposed of at it's second appearance, not the third.
Bridges to and from Old Kasuto: I don't use any fairy-spells at the bridges to save magic for Death-Road. I almost die at the first bridge from Old Kasuto... Close shave.
Death Road: All goes well here.
The Great Palace: Can't complain. I go 'under' and then 'over' the Blue Dreadhawk between the two sets of blocks this time. Certainly a little more risky, but worth the seconds saved.
Thunderbird: Think positive... I take no hits from him.
Dark Link: Hmmm, could and should have been killed a little faster.
Really hope you enjoy this run!
"New Game +" with Up+A Warping and deaths in 0:41:10 by Kristian Emanuelsen.
Get Flash to see this player.
Author's comments:
This game is just so freakin' awesome! The 2D-fighting engine in this game is just too masterful. Mixed in with some clever RPG and adventuregame elements, man... Now, what can I say about this run? It's obviously one of many fun ways to play Zelda II, starting off from a completed file, totally overpowered, smashing everything in your way, hahaha! Man... okay, okay, about this run: Death Mountain not the fastest, but I make up for it with no random enemy encounters on my way there. A few minor problems here and there. I die once unwanted in The Great Palace. Sub 41 minutes is very doable.
Thanks to:
Tommy "tmont" Montgomery for his Zelda II NG+ run at SDA which I learned from and enjoyed. Well played, hope you'll watch my run one day, a comeback to the crazy world of speedrunning would be highly appreciated.
The SDA-crew for downloading, transferring, uploading, and all that other important stuff that makes this run possible for others to enjoy.
European version "New Game +" with Up+A Warping and deaths in 0:44:52 by Kristian Emanuelsen.
Get Flash to see this player.
Author's comments:
NG+ is an amusing way to speedrun Zelda II IMHO. The strength-advantage gives you the opportunity to defeat some of the bosses, e.g. Gooma, with more daring fighting-strategies. And most importantly, you don't have the frustrating NG-Death Mountain problem of a 35 %? chance of getting through with the hammer, even though you fight perfectly (gathering enough experience to level up attack to 4).
I consider this run to be even more lucky than my NG-run, as I have very few random-encounters. The run through Death Mountain isn't optimal, but I'm happy with everything else in this run (as far as I remember). I hope you find this run entertaining!
100% Single-segment in 1:15:22 by Travis Hofman.
Get Flash to see this player.
Author's comments:
Thanks to the SDA staff for making SDA an awesome place. So far, I've done three different speed runs for SDA. The first was submitted when Mike Uyama headed things. The second was submitted when Flip was just about to take over and he was my contact. This one was submitted a few months after Puwexil started doing the submission process.3 different runs, 3 different contacts, hmmm.
I'd also like to thank the guys running The Sunday Sequence Break. They mentioned my run on one show and after I sent the run to one of them, they showed some clips from the run on a later show even though it broke from their policy of only plugging a run once. Thanks.
This run was done on the Wii VC. There is only one thing I know that was fixed in that version. If you level at the same time as leaving area in the NES version, the game freezes. In the Wii VC one, it doesn't. All the flashing was also removed when you cast/acquire spells and beat bosses. Other than those changes, I haven't noticed any differences between this and the NES one.
Things start out pretty well for me. The one encounter I had on the way to the first Heart Container south of Palace 1 was pretty typical. The bubble encounters could have gone a tad better, but they were good enough. I usually hit an encounter going back up that tiny path back to Palace 1. It's rare that I don't.
During and after Palace 1 up to the end of Death Mountain, things went pretty well. Death Mountain had a couple bumps, but nothing too major really, though overall it could have been better. What happens right after Death Mountain, that was ... just bad gameplay. After what happens on the bridge and in the Medicine cave, I decided this run was going to be just practice. Needing to cast Life and then not getting a red potion drop was bad. Little did I know that this was going to have the best second half of the game I've ever had.
Palace 2 goes pretty smoothly. That casting of life near the Glove was unnecessary. I show a different strategy on Helmethead than what I've seen in the past. Ideally, I would have not gotten hit and right after I knocked his second helmet off I would have jackhammered his head again. Would have saved another second or two, plus it looks cool killing him before his second helmet hits the ground.
That drop right before Palace 3 was planned. It was either the Blue Goriya or the Blue Stalfos. 70 xp is better than 30. I would have preferred a 200 P-bag though and gotten a red potion from the statue at the start of Palace 3. No such luck though. It's possible to make it so the Blue Goriya and other enemies in that part of the cave don't appear if you get the Heart Container near Palace 2 after finishing Palace 2. That would have messed with my drops though.
I go straight to the raft and level up there by jackhammering the Blue Ironknuckle to death. Getting five hits in with left handed button mashing is pretty tough actually. I've failed to pull it off plenty of times. I hit the head left of the elevator afterwards hoping for an Ironknuckle. No such luck this time. Yes, an Ironknuckle can appear from that head. Screw logic, this is a Zelda game. For whatever reason, I was thinking I needed to be at 250 xp when I hit the elevator, which would have been true if I got that Ironknuckle instead of a potion bottle. Rebonack (the boss) could have easily gone better. I don't jackhammer him at the beginning because whenever I did, I fell through him and got hit. I'm certain if it was timed right, one wouldn't go through him though. I was going to cast shield for the boss out of habit, but stop myself.
I kill everything I can while going to Palace 4. I need xp to level magic right before getting the boots. I end up at 0 when I get the boots. Even afterwards, I need even more xp so I hit the statue on the way out and actually get an Ironknuckle. I probably couldn't kill him that quickly again if I tried. I take the forced encounters near Darunia instead of skipping them for more xp.
The return trip to Palace 4 goes near perfectly, except for grabbing the P-bag and a couple hits, and those encounters that never happen if I destroy any forests. It doesn't really matter which key you get. The one on top of the elevator is closer in the room with the key, but the elevator room is a tad longer, but has no drop. If I had gotten a potion bottle from the Ironknuckle, I would have gotten the one on top. I think it's about a second faster.
Palace 5 is by far the best run through I ever had. In fact, most of the palaces themselves were better than any other run I did before this one. Xp isn't an issue here the way I level. Being able to cast fairy twice is more important than increasing attack. Increasing attack would have made the two Red Ironknuckles and Gooma (the boss) slightly faster to kill. That's it. The few hits I do take before the boss I blame on randomness. My strategy for Gooma I wouldn't recommend for any%, even though it's faster than what I've seen anywhere on the web except for the TAS. There's a reason I cast Shield for that fight. Plenty of deaths happened here.
I get Fire now because I didn't get it on the way to Palace 4. I don't think it matters much when it's actually acquired.
Palace 6 goes incredibly smoothly. For 100%, I consider this the easiest palace in the game. I was hoping for an Ironknuckle from the drop spot after the Cross, a potion bottle works but is unnecessary. Downstabbing Barba is risky, but oh so fast and cool. Doing the jackhammer isn't recommended because falling through him is death, and there's a good chance it'll happen. I decided on this strategy after noticing that he kept popping up on the right for me. I think this has to do with getting in there quickly and turning left. I believe that his AI is set for him to appear behind you. The decision seems to be made while he's rearing his ugly head, or in the case of the fight just starting, while you're waiting for him to appear. I don't know for a fact if any of that is true though. Or, it could just be I cast Jump when I did. When I did other things, he appeared randomly. I only know that when I did the same thing, he appeared in the same place.
I chose my level up strategy mostly for leveling magic at the end of the Valley of Death. This allows me to enter the Great Palace with full magic while making the Valley of Death relatively easy.
I opted to take the TAS route through the Great Temple instead of the normal way. This decision was made because I had a run I was thinking I wasn't going to be improved by a whole lot. Plus it looks cool, and that's as important as being fast in a speed run. Figuring out how to do it without full life and the starting position were the trickiest parts of learning the trick. It skips 2 or 3 rooms total compared to the normal way too, so it has the potential to be faster. I don't think I was significantly faster this time compared to what I've seen done by other runners though. I did take a little extra time to set it up. After I got the TAS skip on the first try, I looked at my time and realized this was going to be a personal best, even if I did die. I almost had Thunderbird killed by the third pass. Missing that one attack screwed that over though. I get to say this though: NO HIT THUNDERBIRD! I was nervous enough at this point I cast Shield against Dark Link. I didn't want to risk death at this point, even though I had plenty of health. I also do a graphical glitch after Dark Link dies. I use the Jump spell because I'm used to not having enough magic to cast anything else. I usually got magic at either of the other drop spots.
In case anyone is wondering, my previous best was about 1:16:32. This run, 1:15:18 by my timing, was over a minute faster.
This run isn't without faults so it's time to talk improvements. Doing Death Mountain before Parapa Palace is obvious. This is a little over a minute, possibly more. If I take my best splits for the route I took, there is about 1 minute of improvements. All of which is in west Hyrule between the end of Palace 1 and the end of Palace 2, so Death Mountain.
There is also 30 seconds of improvement in Palace 6 (Three-Eye Rock), but that requires doing the Fairy Glitch and clipping on top of the ceiling. See http://www.youtube.com/watch?v=ipYzI9KWLs0 for a video about how to get on top. It's frame perfect though. If you go to the right side after getting on top of the ceiling just before the screen transition, jump off the top of the screen and cast fairy, you warp yourself to the right side of the next room. You'll still be on the ceiling and you can do it again and one more time placing you at the top right of the room you need to fairy across. You would want to manipulate for a drop from the Stalfos in the next room so you could finish the palace quickly though. I would say this is probably something nobody will do in a real time speed run, but I've seen plenty of examples on SDA to know that it'll be done someday. I've had the opportunity to do it a few times while I was doing attempts, but that Stalfos didn't want to give a red potion bottle.
There are also small improvements, like not getting hit and avoiding unwanted encounters, scattered around. Total, I think there's probably 3 minutes that could be cut off this time, plus or minus a random amount because of the RNG of speed running. Or somebody that can come up with new tricks could possibly cut a lot more off.