Released in April 1992, A Link to the Past was the third game in the Zelda series and the only one to be made for Super Nintendo. Link goes on a quest that spans two worlds in an effort to restore the seal of the 7 wise men, recently broken by the mysterious wizard Agahnim. The game was re-released for GBA in December 2002, featuring faster text scrolling, Link screaming, a redone Ice Palace puzzle, and a link with the included game, "The Four Swords".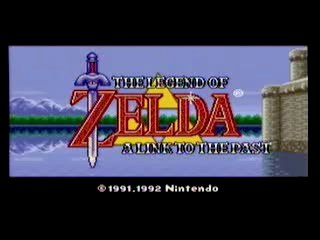 100% is based on getting all items on the subscreen, all heart pieces, and max level of equipment except the bomb and arrow upgrades. The level 2 shield and blue mail can be skipped since they are replaced by the mirror shield & red mail.
Runs on the SNES version:
Best time: 1:29:48 by Philippe 'Wak' Brisson on 2009-04-24.
Best time: Single-segment 1:35:45 by Philippe 'Wak' Brisson on 2009-06-12.
Best 100% time: Single-segment 1:52:43 by James 'Reaif' Schurig on 2011-10-30.
Return to the Game List, the FAQ, or the Home Page.
1:29:48 by Philippe Brisson, done in 17 segments.
Get Flash to see this player.
Quality note: a problem with the runner's sound setup results in the right channel being on both channels of the videos. Sounds that originate on the left sides of rooms are very faint.
Author's comments:
This run took me 5 days to complete, including 1 day for part 13 and 2 days for part 16. The game is in french, but you don't really bother, do you? This has been done in 17 segments, and most of the time I save quit is because it saves time. Thanks for TSA for showing me how to be good and fast at this game, MadZombie for proving that it was possible to be even better and Tompa for showing me how to complete the Ice dungeon without the big key, a time saver of about 1 min and half. Thanks also to him for the tips and the Tool assisted run, which overall completed my route planning and room strategies. So this is a small comment about every of my segments:
Part 1:
Difficult part: Randomness of the enemies
I had to restart this segment a lot to get a decent time. What is best in this is the ennemies that you have to beat coming to you early, and the useless ones getting out of your way. Everything went fine until I got hit by a mouse at the end of the segment... I kept it anyway.

Part 2:
Difficult part: Red Rockclops
The strat to beat the 4 skeletons has become somewhat easy after time. I shot an arrow too early on a Green Rockclops and got hit, anyway the second one hit him right in the face. I failed to kill the 2 Red Rocklops at the last room, but I didn't lose so much time in the end. I opened the bombs chest in sarashala's house because I'll need them later in the run.

Part 3:
Nothing difficult, nothing wrong, getting a book at the library is easier in this game than IRL.

Part 4:
Difficult part: The damn boss
The boss was the only reason why I restarted this run many times. I ended up beating them in 37 seconds, fast thing.

Part 5:
Difficult part: Damage boost
For some reason I must get hit in the room with the floor attacking me, of well, I don't lose any time. My damage boost couldn't have been faster, which is why I kept this segment. I lost some time against the boss, but it's allright.

Part 6:
Nothing difficult at Getting the Master Sword.

Part 7:
Difficult part: Randomness of Aghanim
Everything went fine in this video, even Aghanim was about to give me a beautiful 6 big balls out of 6, rare thing. Unfortunately, after getting hit 5 times he decided to waste my time with 2 useless balls. Lost about 11 seconds there.

Part 8:
Difficult part: The damn boss
screwed up a little in the first key room, oh well. I also took a small heart for apparently no reason, it's because being full heart I don't have to switch from hammer to arrow, arrow to hammer once in the basement. Also, being full heart raises my confidence against the boss. And I hate the boss because of it's fireballs really well placed to waste my time. However this segment was well done, with decent time.

Part 9:
Difficult part: Corridor
The long corridor kind of the only place where I could have saved a couple of seconds. Getting the dash attack throughout it is not only very difficult, but also random. I tried the best as I could, and the rest of the run went fine enough.

Part 10:
Difficult part: First room, Damage boost
What happenned in the chest room was not expected, but I decided to continue the segment because it didn't waste signifiant time. The boss went well to. 4 hits out of 6 got him down, which is decent enough.

Part 11:
Nothing too difficult, I just made sure to not fall in the water, it looks noobish.

Part 12:
Nothing too hard there neither. Making sure to not waste time with rocks and everything's fine.

Part 13:
Difficult part: Damage boost
So this is it, the very new trick to achieve in an ALTTP run, a damage boost making the ice dungeon possible to complete without the big key. It took me over 200 times to complete. Seriously, it's that hard.

Part 14:
Difficult part: Boss
The only hard and random thing is the lightning made by the boss. If you get hit, you may just die and need to restart the run. I didn't get hit, and everything went fine, yeay.

Part 15:
Doing the dark world's 2nd dungeon that late in the game is a real joke. No mistake have been done here, this is probably my most fluid segment over them all.

Part 16:
Difficult part: Endurance
I'm very picky and perfectionnist, and this part was very hard to achieve. I restarted a lot only because of a 5 seconds loss or things like that. I ended up with a decent segment, with small mistakes here and there. The aghanim fight was acceptable to.

Part 17:
Ganon fight is easy, the hard part is getting a segment with him not teleporting too much, It wastes a lot of time. I ended up, again, with a decent segement. And yeah, it's not a perfect run, however the chances of having a perfect segment is simply not bound to happen, that's why I kept this one.
Overall, I'm happy with this run, and I don't think someone will beat this time near soon... The only way to get better is got manage even more luck manipulation, and I'd be surprised someone would have more time on his own than I had when I did this run.
So what now? May I try to beat TSA's single segment run to become officially the master of ALTTP? Yeah, why not giving it a try. Will it take 2 more years to achieve, just like every run I do? Maybe. I just have no clue what I want to do exactly... Even if I'm prepared like hell to crush TSA's time, and even the unfamous Rodrigo's cheated Single-Segment time of 1:36:xx. With the new Ice palace trick, 1:34 SS is more than possible, and I'm going to give it a try. Stay tuned.
Single-segment: 1:35:45 by Philippe Brisson.
Get Flash to see this player.
Auhor's comments:
Since 2004 I dreamed of beating TSA's time in ALTTP. At the beginning I wasn't even near to beat him, which pushed me to create a new category: 100%.
A couple of years passed, the route had been maximized in the TAS and it permitted me to create a segmented run of ALTTP... even though all I was doing was create a new category.
I decided it was finally the time to beat TSA's run, after 5 years and 4 different runs, 3 from TSA. It took a while, it took hours and patience from both me and my girlfriend who watched me swear at the game every evening except one.
You can now watch part of this evening by looking up to this run.
100% Single-segment: 1:52:43 by James Schurig.
Get Flash to see this player.
Auhor's comments:
Thoughts:
When I first thought about writing run comments, I wanted to really spell things out and give as many details in text as I could, but the truth of the matter is, I really wouldn't like to do that after all. That being said, I'll spout some mumbo jumbo instead.
As I was doing this run, some things seemed too good to be true. In the beginning, there were rupees everywhere that cost me basically no time to grab. By the time I was done with the light world, I had about 80 more than I usually do, and that number generally doesn't vary much. The digging game went great and I wasn't too surprised about it, but the fact that the chest game also went well for me kind of blew my mind. I have had good games before, but this was the first time they ever decided to both be good in the same run.
As far as mistakes go, I might be capable of shaving off as much as 30 seconds to one minute from this run, but the with the amount of luck this run required, that isn't likely to happen for me in a long, long time. There are others out there who, I am sure, could beat my time handily. I like to think of this run as a place-holder, or a challenge to those incredibly skilled players. Come knock my run off the page. Please.
After thoughts:
I might as well answer some questions that are likely to arise.
Q: If you aren't Japanese, then why would you play the Japanese version over the English version?
A: I'm not Japanese in any way shape or form, but there are a few reasons. Firstly, there is less text in the JP version so some time is saved by that alone. Secondly, there are many tricks/glitches that help save time which can only be done in the Japanese 1.0 version of the cartridge, which is what this run was done on. Thirdly... um, Japanese is cool I guess?
Q: Tricks and glitches?!?!?!
A: Most of the tricks involve doing two actions at once, such as the hammer dash and the super run. In the JP 1.0 version of the game, you can do many things simultaneously, though most don't benefit the run. Hammer dash = dash + hammer on Y button at the same time. The super speed is done by, dashing and using the hookshot at the same time while on stairs. I don't really understand how it works, but it's fairly easy to pull off and it makes you go so wonderfully fast. It's my favorite trick in the game. There is also a trick that lets you completely delete pushable blocks by using the mirror while mid-push. I would use it on every pushable block in the game that gets in my way, but there are some limitations that REALLY limit this trick's usefulness.
Q: Digging and chest game. Spill the beans.
A: Well, the digging game has a really convoluted way of determining what you get when you dig. The long and short of it is that it is almost completely random, though there are some things you can count on, such as that you can't get the heart very early in the digging game. It will only happen after 20 or so digs. On the other hand, the digging method and route I used in this run has been serving me VERY well. Of my last 6 attempts (this one included) I was able to get the heart on the first round of digging in 5 of those. Conversely, the chest game is much simpler in that you can get the heart piece every time you play if you open the second chest while on the right frame of animation, just to the right of the center of the chest.
Q: Why didn't you get the blue boomerang, the blue armor, the red shield, or the bomb and arrow upgrades? I thought this was 100%.
A: Why would you ask such a question? Truthfully though, 100% for this game has been defined as a completed inventory and all hearts/heart pieces. What that means is that for items with multiple upgrades, you can skip to the final version of that item and it still counts because you have the final version of what the inventory screen should show.
Q: But seriously, bomb and arrow upgrades should count.
A: No they shouldn't.
Ending thoughts:
Well, so much for having brief comments. Anyway, I hope you enjoy watching the run!