demos we've received in the last few weeks. There are a total of 41 of them!
Last but not least, we got Ryan 'chambers' Moore with two really tight demos on ad_s1m1:
With new maps comes new demos. This update will showcase some of them but we've saved the
Arcane Dimension
demos until later so please keep 'em coming!
First up we have two pretty darn good ID records:
Ryan 'Chambers' Moore did the Easy 100% of e2m2 in 0:48 (video link), 5 seconds faster than Elias 'Elgu' Solla. Incredible demo!
Conny 'Jukebox' Wernersson tried his luck on the long way of e3m2 and got 0:36 (video link), 1 second faster than Petar 'PraskOo' P. Amazing!

Conny also took on the recently-improved-and-according-to-me-unbeatable Nightmare 100% record of tower and got 0:14 (video link), 1 second faster than Tony Hänninen. A day later, he submitted yet another improvement where he exited at 0:13 (video link).
I must say that I love being misproven in situations like this!
The rest of the demos can be found here:
For the map
sincinch
, we actually had a small battle without any knowledge from the involved parts.
Gustav 'Brainfluid' L.
submitted a demo he recorded all the way back in November for the Easy Run:
0:18
(
video link
).
Unfortunately for him, Connor skipped the rocket launcher and instead used an ogre grenade getting 0:12 (video link). Connor also did the Nightmare Run and exited at 0:11 (video link).
The third party in this made-up conflict is Ryan who submitted demos with the same times as Connor but a tad too late.
On top of this, we've also received several coop demos:
Elias 'Elgu' Sollas

and

Sphere

did the 2-player Easy Run of r2m8 in 0:04 (video link), table filler (1 second faster than the Easy Run).
EddWardG

and

Sphere

did the 2-player Easy Run of black1 in 0:48 (video link), table filler (8 seconds faster than the Easy Run).
They also did the 2-player Easy Run of black2 in 0:43 (video link), 4 seconds faster than Carl and Johan.
EddWardG, Sphere and Ryan 'Chambers' Moore gave us:
From EddWardG, Sphere, Ryan 'Chambers' Moore and Elias 'Elgu' Sollas we got:
Download all demos for this update
here
.
New JoeQuake build
Our good sir Fleck happened upon a bug when playing the new
AD
maps resulting in crashed games due to "
spawning of specific edicts overflew the max_edicts list
".
Joe quickly identified the issue and released a new build (version 0.17.1, build 6746) which solves the problem. Make sure to get it here.
What about the bunny comparison?
Well, first of all, the
400m
map has been added to this page. Feel free to improve your previous time.
Should you need any tips on how to do this, please check out these two videos (courtesy of kipi):
Secondly, we have several new demos from Damian, Joshua, Angruo and Petar P.
I want you all to pay attention to Petar's demo; the first (unless I'm mistaken) run through e1m1 in 0:20 seconds without using the explobox. Crazy!
Last but not least, here is another video by kipi. He has combined all demos in the 400m contest into one video. Well worth a look.
Tuesday, February 16th 2021 by Thomas Stubgaard
New Maps
We're adding a bunch of new maps. Seven single player maps and one giant episode to be exact. That should keep you entertained for quite some time. Please note that all these maps require JoeQuake v0.17.0 (or newer).
And then there's
Arcane Dimension
. Coming up with what to name your demo(s) was quite a puzzle, so please bear with me if it all seems a little confusing at first glance. There's an obvious pattern to it if you look closely :-) There's a total of 23 maps, and since we can't go above having 4 letters in the demo name, I had to be smart with the demo-naming.
I'm not overly familiar with Arcane Dimension, so if there's something fishy going on with any of the maps (like if you can't get 100% kills and such), just let me/us know and we'll take it from there.
ad_cruical (The Crucial Error) by

Maik Franz Xaver

- Name your demos "adcr"
ad_dm1 (Place of Many Deaths) by

Gavin Edgington

- Name your demos "add1"
ad_lavatomb (Per Aspera Ad Inferi) by

Noel Lacaillade

- Name your demos "adla"
ad_mountain (Firetop Mountain) by

Simon OCallaghan

- Name your demos "admo"
ad_necrokeep (The Necromancer Keep) by

Sean Campbell & Matthew Breit

- Name your demos "adne"
ad_obd (Obsessive Block Disorder) by

Simon OCallaghan

- Name your demos "adob"
ad_swampy (Foggy Bogbottom) by

Maik Franz Xaver

- Name your demos "adsw"
ad_azad (The Realm Of Enceladus) by

Maik Franz Xaver

- Name your demos "adaz"
ad_tfuma (Terror Fuma) by

Gavin Edgington & Eric Wasylishen

- Name your demos "adtf"
ad_magna (Leptis Magna) by

Noel Lacaillade & Andrey Saenko

- Name your demos "adma"
ad_metmon (Arcane Monstrosity) by

Simon OCallaghan

- Name your demos "adme"
ad_zendar (The Horde Of Zendar) by

Simon OCallaghan

- Name your demos "adze"
ad_sepulcher (The Forgotten Sepulcher) by

Henrik Oresten & Simon OCallaghan

- Name your demos "adse"
ad_ac (Arcane Adamantine) by

Dmitry Svetlichny & Simon OCallaghan

- Name your demos "adac"
ad_s1m1 (Slipgate Conundrum) by

Simon OCallaghan

- Name your demos "adm1"
ad_akalakha (Ak-Alakha) by

Andrey Saenko

- Name your demos "adak"
ad_grendel (Grendels' Blade) by

Simon OCallaghan

- Name your demos "adgr"
ad_scastle (Nyarlathoteps Sand Castle) by

Simon OCallaghan

- Name your demos "adsc"
ad_tears (Tears of the False God) by

Benoit Stordeur

- Name your demos "adte"
ad_dm5 (The Mire) by

Noel Lacaillade

- Name your demos "add5"
ad_e1m1 (Hangar 16) by

Sean Campbell

- Name your demos "ad11"
ad_e2m2 (Ogre Bastille) by

Simon OCallaghan

- Name your demos "ad22"
ad_e2m7 (The Underearth) by

Eric Wasylishen

- Name your demos "ad27"
Jozsef Szalontai
was kind enough to provide us with QdQstats for Arcane Dimensions. I've included it in the download above, but you can download it individually
here
too if needed.
Speaking of Joe, he also recently released a new version of JoeQuake which you can grab here.
Here's some highlights from the new version. All the changes can be viewed here.
All (bsp/mdl) textures are drawn using OpenGL's VBO and GLSL tech (performance improvement)
Added resolution scaling from QuakeSpasm, also added option to adjust in the Video modes menu
Added GLSL gamma correction from QuakeSpasm
Added dynamic gfx texture loading
Added option to set Power bunnyhopping on/off in the menu
Changed default key bindings to make more sense for new players (like WASD for movement, MOUSE1 for attack, etc)
Monday, February 15th 2021 by Thomas Stubgaard
400m Contest
The results are in!
Check 'em out by clicking right here.
Friday, February 12th 2021 (2nd update) by Jonny Andersson
Twice a day make the doctor go away
Let's continue Stubby's update onslaught with number two for today.
EddWardG already has 26 coop demos so it was just a matter of time until he submitted his first single player record:
Justin 'optic' Fleck took back his Nightmare 100% demo on dmc2m3, beating me by 10 seconds and exiting at 1:10 (video link). Very nice!
My brother from the same mother Mattias Öman decided to grace us with his first demos since August 30th:
Last but certainly not least, Tony 'cookye' Hänninen submitted two really neat records:
here
.
Friday, February 12th 2021 by Thomas Stubgaard
ID's and Hips
We have our first batch of "the long way" Easy Runs on
e3m2
. One player in particular seemed to have fun with it.
Speaking of

Petar 'PraskOo' P.

, he did the Easy 100% of e4m2 in 1:00 (video link) improving Conny Wernersson's time by 1 second. Highly recommended download!

And finally we have Tony 'cookye' Hänninen taking two records on Quake's first official mission pack:

Download all demos for this update here.

Thursday, February 11th 2021 by Thomas Stubgaard

Connor's Hunt For Decimals

It's always super fun watching demos from

Connor Fitzgerald

since they're all so short and explosive. These six demos are no exception.

Don't blink!

Download all demos for this update here.

Wednesday, February 10th 2021 by Thomas Stubgaard

Jonny Loves DMC2

My young SDA apprentice

Jonny Andersson

recently gave the

DeathMatch Classic Vol. 2

a lot of love. Here's the results:

These are all very good demos, so be sure to watch all of them.

Download all demos for this update here.

Monday, February 8th 2021 by Thomas Stubgaard

Coop Galore

There's a ton of demos to be posted, so I figured I might as well do several updates with their own little theme. This update is all about coop demos. Let's dig in shall we.

These demos are all courtesy of Elias 'Elgu' Solla, EddWardG, Ryan 'Chambers' Moore, Gustav 'brainfluid' L., Sphere, Petar 'Praskoo' P. and Sajiki.

Download all demos for this update

here

.

Saturday, February 6th 2021 by Thomas Stubgaard

e3m2 "The Long Way"

Just a quick note to let everyone know that we've added "

The Long Way

" version to

e3m2

, similar to those on

e1m6

,

e2m1

, and

e4m5

. The current best demos using this route are from 1997/98, so there's plenty of room to optimize and for getting an "easy to grab" id record :-)

Here's the exact wording on the e3m2 page should you be in doubt:

"For the long way, you need to take the intended route and not grab the silver key early".

Saturday, January 23rd 2021 by Jonny

In retrospect and for the future to come

This will be the last update regarding the - in many ways shitty - year of our lord 2020. Not Quake-wise though, not at all.
Let's summarise it!
| | |
| --- | --- |
| Number of updates | 44 |
| Number of demos | 836 (7th place behind 1999 with 884 demos) |
| Number of players | 23 |
| Most demos | Justin Fleck (445 demos) |
Demos per category
Easy run: 110 demos (15 marathons)
Easy 100%: 220 demos (15 marathons)
Nightmare run: 145 demos (21 marathons)
Nightmare 100%: 309 demos (21 marathons)
Coop: 52 demos
Total:
836 demos
ID records
Easy run: 15 demos
Easy 100%: 11 demos
Nightmare run: 19 demos
Nightmare 100%: 14 demos
Total
:
59 demos
It's been an amazing year for Quake speedrunning and both me and Stubby want to take the opportunity to thank you all; Connor, Conny, Damian, EddWardG, Elias, Grzegorz, Gustav, Jonathan, Jozsef, Justin, Mads-Peter, Matthew, Mattias, Michael, Michael, Paul, Petar, Petter, Ryan, Sphere, and Tony.
Monday, January 11th 2021 by Jonny
Thrice the haunted halls
Yet again I have the pleasure of continuating the tradition to notice when a player holds all four single player on an
ID
level.
This time it's not a new player but instead Thomas Stubgaard who has improved no less than three of his four single player records on e3m7.
Let's have a look and try to visualise the hundreds of hours this man has put into this truly haunted map:
He is the only one with a valid record on the map (coops included)
Between June 26th 2000 and October 15th 2020, he submitted 25 single player records and another 10 coop records
There are a total of 56 demos on this map and the craze Dane has submitted 35 of them
With a few hundred hours under the belt on this map he surely deserves to have the
total ownage
.
I've asked him to provide a few words for each of the demos:
---
The Nightmare 100% run concludes my lifelong obsession with this map. It has haunted me in my sleep for the last 20 years. I've spent hundreds of hours on this map alone, and that's not just some silly statement, it's actually true! Call it self torture if you will, but I "enjoy" runs that are brutally hard.
This is probably the demo I'm the most proud of of all the Quake demos I've done since I started submitting demos to SDA way back in 1999.
I've never been a quick bunnyhopper, so I naturally gravitated towards 100%'s from the very first demos I ever did. I guess you could say 100%'s appealed more to me because of my shortcomings. Don't get me wrong, I love watching runs like Conny's infamous e1m1_019 Easy Run as much as anyone, but when it comes to my own running I prefer doing 100%'s.

With that said, let's start with the run that involves the hardest "trick" in any demo EVER, and I stand by that statement! Go ahead and prove me wrong :-)

Let me explain the "Houdini Ogre" trick in detail:

A bug in the Quake code sometimes let an Ogre teleport itself to another destination on the map (not just this map, but any Quake map).
It happens more frequently on some maps for some reason I'm not technically inclined to answer. On e3m7 specifically, the Ogre in the narrow hallway you have to kill in order to progress through the map sometimes teleport to the Fiend pit area close by. It happens so rarely that I've only had it happen about 4 or 5 times in all my hundreds of hours on this map. That trick alone saves 2-3 seconds which makes all the difference in a short run like this. Normally you'd have to shoot the Ogre 9 times with the shotgun for it to die, OR, if it throws a grenade at you while you're up close to it so it takes self-damage you can do it with 8 shots. That's why you see me bump into the Ogre in the skill 3 demos.

And the irony in it all is that even if you're lucky enough get the Houdini Ogre, everything else in the run has to go according to plan as well which it naturally never does apart from that one time when I got the 0:40 demo.

I did in fact get it ONCE during my most recent 21-28 hours of Easy 100% grinding. I was on course for maybe beating the 0:40 time when I realised I hadn't pushed the button on the upper section that opens the door to last section of the map. That button has fucked up many of my e3m7 attempts.

The run in itself isn't highly spectacular apart from the trick mentioned above, but the record has stood since January 2006, and normally any of the top bunnyhoppers would've been able to beat it with ease, so maybe if I'm lucky I can still claim to be the recordholder 20 years from now.

And yes, I've tried to beat it many times since I did the 0:40 demo, but never got close.
This one is a lot harder than you think. Here's a snippet from the text file for the 1:25 demo:

I've been trying to beat this for the past 7 days, about 3-4 hours grind each day. I'm well aware the demo doesn't look amazingly sharp, but this map is brutal, even on skill 0. Squeezing past the 2nd Ogre as fast as I did in this demo happens maybe 1 try out of 50 or even less. It's totally random. And getting as much as luck as I did with the monsters in this run almost never happens. Usually a zombie is knocked down and I'm not able to kill it while having the Quad.

The start in itself is very technical and requires lots of luck. Let me explain:
Right after you jump off from the lift and land on the bridge, you need to hit a trigger for the door to open. It's not hard hitting the trigger in itself, but right after hitting the trigger you need to stay all the way to the left on the bridge, so the 2nd Ogre will start moving in that direction. The Ogre can't move too far or you won't be able to squeeze past it when you stun it. It's really a case of 1 or 2 pixels seperating failure from success.
It's possible to stun the Ogre so it falls on its butt on the 1st, 3rd, 5th, and 7th shot. I don't know why it won't get stunned on the 2nd, 4th, and 6th shot, but in the hundreds of hours I've been playing this map in the past it has never occured. Some weird shit in the code probably. Ideally you want to stun it on the 3rd shot as that's when the Ogre is in the perfect position. Getting the 1st stun will just make it fall back in an unwanted direction.
I was over the moon when I recently improved it to 0:44. When I grind e3m7 on skill 3 I typically aim for doing the 100%, but if I get a fast start up until where the first Quad is, I sometimes switch over to the Run instead. That Quad area is the section that makes all the difference for the run. It's lots of small little details that's makes the difference, but the deciding factor is the fast start and if both Ogres near the Quad on the top section are moving to a favorible position (which they - yeah, you guessed it - very rarely do).

If you take the Houdini Ogre from the Easy Run out of the equation, this run is the hardest to do of all four. Getting a 0:43 is certainly possible, but it'll be for someone else to try.
Believe it or not, if you can survive the onslaught, this one is actually the "easiest" demo to do fast of all four categories.
"But what about the Easy 100% I can already hear you asking?", well, to improve the Easy 100% you can't really get a single shot wrong, and the monsters have to cooperate close to perfectly (lots of infightning and no Zombies knocked down). With the Nightmare 100% there's room for small errors here and there, but yeah, first you have to survive the onslaught :-)
What's new in this demo compared to the previous one is the end room in which I make the Vore and one of the Ogres infight. It saves a lot of precious shots I can use to make other sections of the run go faster. It's super tight on ammo as it is!
Monday, January 4th, 2021 by Thomas Stubgaard
A New Year Begins
First demo update 2021! It's mostly the remaining demos from 2020 (there's still three in inbox we're saving for a special occasion).
UPDATE: Oops, I forgot to mention Sphere's Easy 100% of r2m8 in 0:22 (video link), which is 5 seconds faster than Robert Axelsson.
Connor Fitzgerald submitted a pile of very short single player demos just before the year rang out:
And here's a bunch of really cool madcoops from
Ryan 'Chambers' Moore
,
EddWardG
,
Gustav 'brainfluid' L.
,
Petar 'prask0o' P.
, and
Sphere
Ryan
,
Gustav
,
EddWardG
, and
Sphere
also did a fun 4-player run of the
100m
map in
0:06
(
video link
).
Download all demos for this update as dzip (4.3 MB) or zip (1.9 MB).
Saturday, January 2nd, 2021 by Thomas Stubgaard
Surprise!
Let's start 2021 on a positive note with our first contest in 10 years! It's based on an idea I've had in my head for a looong time, but as I can't map for shit I needed to "trick" someone into building the map for me. First it lingered a while with
Negke
, then it took a detour with
Shamblernaut
, and finally it ended up in the hands of
Stylaphone
. A HUGE thanks to all three of them for making this happen!
Most of you who frequent this website knows about the 100m map that was used as a contest in 2001. It's since been used as a way for Quake speedrunners to measure themselves against eachother as the ultimate bunnyhopping test. The winning time back in 2001 was 10.68 seconds, and by comparison the current record is 9.63 which is a strong testiment to how much Quake speedrunning have advanced over a span of 20 years. Fun fact: Usain Bolt's real life 100m record is 9.58 seconds, so we're inching closer to that.
This time we're taking it a step further with a 400m run! The current real life world record is held by Wayde van Niekerk and clocks in at 43.03 seconds. It'll be fun to see if anyone can get close - or even surpass - that time. You can also run the map in coop mode for those feeling adventurous.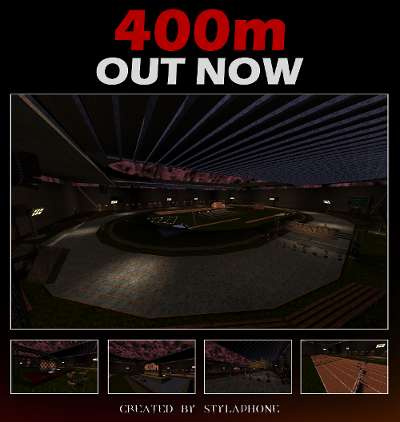 Full details of the contest are to be found right here. Make sure you're using the latest JoeQuake build as the map won't run otherwise. The contest will run for nearly 1½ month, so you've got plenty of time to hone those bunnyhopping skills.
UPDATE: If you're having FPS issues when running the map, use this "stripped down" version instead. It won't look as pretty, but it'll run smoother.
Demos being run on both maps will be accepted.
READY, SET, GO!